Singapore is one of the gateways to South East Asia and Australasia. As one of the main airport hubs for transfers to Thailand, Vietnam, Malaysia, Indonesia, Australia and the Philippines, you will undoubtedly experience a layover in Singapore sooner or later.
Last year I had a 12-hour layover in Singapore, en route to Papua New Guinea. I wanted to make the most of my time in the city. With a little pre-planning you can do and see a lot in a short space of time!
Throw in the world's best airport, and you've got plenty of options for a comfortable layover. Here are my top tips for maximising your time in Singapore:

Grab A Day Room – many of the hotels around Changi airport are geared specifically to look after layover passengers. If you land in the morning (and if budget allows), grab a day room, dump your stuff, and head into the city. I stayed at the Capri By Fraser hotel, located next to the Expo stop on the Mass Rapid Transit (MRT), which is just one stop from Changi airport. A day room also allows you to catch up on some sleep, if you need it!
Get A Singapore Tourist Pass – this allows you to ride public buses, the LRT and the MRT metro system all over the city, for one day, until the last train hits the final station. It costs $10, and is your ticket to the city. Check out the info here.
Book A Singapore Walking Tour – this was the best thing I planned in advance for my layover. It allows you to see the best parts of downtown Singapore in a short space of time. I booked mine with Indie Singapore, and did the 'Riverfront Thursdays' tour, which took in a walk along the Singapore River and through the Civic District of the city. It finished at the Fullerton Heritage Promenade, which provided great views of the Marina Bay Sands hotel.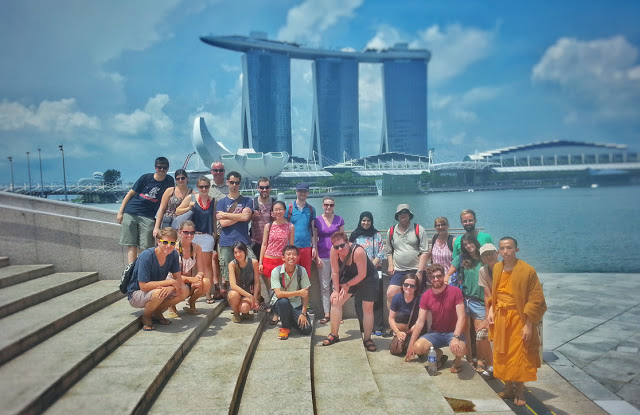 Walking by the riverside, Singapore
The old Singapore police station

Check Out The Marina Bay Sands Hotel – this 5-star hotel looks like a surfboard balancing on three pillars. By all accounts, this hotel is epic and is well worth checking out. I even read a story that if you're sneaky – and I mean really sneaky – you can even swim in their incredible infinity pool…


Check Out The Singapore Light Trees – how awesome do these look? My layover was during the day in Singapore, so I decided against visiting Supertree Grove, but if your layover is during the evening or night, put this at the top of your list! It's free admission too!
Try Some Local Food – this is a must. Even in 12-hours you need to eat, so why not eat local? You'll find hawker food stations and shopping malls all over the city, so stop by and choose a dish. I would suggest trying a laksa and most definitely a kaya toast 🙂
Eggs mixed with soy sauce
Have A Singapore Sling – last but not least, you must have a Singapore Sling. If you are going to do this properly, you have to go to the Long Bar at the Raffles Hotel. It is the birthplace of the Singapore Sling, set in a colonial hotel. If that doesn't take your fancy, here are a few other places to try 🙂
There you have it – seven ways to make the most of your layover in Singapore. Enjoy!
https://adventurebagging.co.uk/wp-content/uploads/2016/12/singapore-walking-tour-group-marina.jpg
724
1116
Simon Heyes
https://adventurebagging.co.uk/wp-content/uploads/2018/10/Adventure-Bagging-Travel-Blog-WP.svg
Simon Heyes
2016-12-31 12:22:00
2019-06-21 12:37:15
12 Hours In Singapore – 7 Ways To Make The Most Of Your Layover