Like most places in South America, I have a huge affection for Santiago. With a population of 6 million, a fantastic wine culture and being surrounded by snow-capped mountains make Santiago a special city.
Santiago was also the city that started my love affair with airbnb. After spending the previous 5 weeks in close quarters with others in hostels, Santiago was my chance for freedom.
A few days before landing into Santiago from Brazil I booked a room in an apartment with a local Chilean girl. She spoke broken English, I spoke broken Spanish, and through our broken writing she managed to send me directions and we met at her apartment, in the Providencia area of the city.
The biggest benefit of airbnb? You find out about local areas, bars and restaurants that you would never have visited previously. Natalia was a great host, and even gave me some Spanish lessons. My three-day stay was the ideal break from the hostel environment, and allowed me to explore Santiago on my own time, at my own pace.
So where did I go, and what did I do? Here are seven things to do in Santiago;
1) CHECK OUT THE VIEW FROM CERRO SAN CRISTOBAL
I love nothing more than finding the best vantage point in a city. Cerro San Cristobal is that vantage point in Santiago. Climbing to the top not only gives you an awesome view of Santiago, but you can also see the Andes mountains looming in the distance. You can walk up, cycle up, or ride the funicular from Bellavista.
The sun shining down on the Virgin Mary, at the top of the hill
2) WALK AROUND PLAZA DE ARMAS
Some of the architecture around this historic square is incredible. There are often events being held in the the former city centre. Have a peek inside the post office building (don't forget to send your postcards home!), and visit the Catedral Metropolitana de Santiago. Admission is free to look around this beautiful church, but if you can't wait, check out the inside, courtesy of Google Maps.
The current post office building in Plaza de Armas
Plaza de Armas, looking towards Catedral de Santiago
3) VISIT MERCADO CENTRAL
Santiago's Mercado Central is consistently named one of the top markets in the world. Have a walk around this bustling market, pick up some fruit, veg and check out the huge variety of fish and seafood Santiago has to offer. Try one of the market restaurants – some are touristy and overpriced, but you can always follow the locals and head to the smaller restaurants on the sides of the market. Wherever you eat you're sure to have a great, fresh meal. Closest Metro: Puente Cal y Canto.
Santiago's Mercado Central
4) WALK AROUND BELLAVISTA
Patio Bellavista is filled with pubs, bars, and tree-lined streets. It is also next to University de San Sebastian, so many of the shops cater for local guided tours – perfect if you have a few days to kill and you want to get out of the city. Bellavista sits at the foot of Cerro San Cristobal, so sit in the sun with a cold beer or wine after you've seen the panoramic views from the top. Closest Metro: Baquedano.
5) STROLL THROUGH PARQUE FORESTAL
This lovely stretch of park between Baquedano and the Mercado Central is full of walkers, runners, cyclists, people having picnics, fountains and generally lots of Chileans enjoying the greener side of Santiago. At the weekends you will find people playing music and break dancing, jugglers, street entertainment and plenty of open air workout sessions. It's a great place to stroll, people watch and simply to stop, rest, lie down and catch your thoughts, or read a good book.
One of the many fountains in Parque Forestal
The main path through Parque Forestal – fairly empty on a weekday!
6) VISIT THE MUSEO DE BELLAS ARTES
The Museo de Bellas Artes is Chile's National Museum of Fine Arts. It is one of Chile's flagship art museums, and when you walk round, you can see why. The museum has a range of permanent and temporary collections, and the building itself is worth viewing, both from the outside and inside.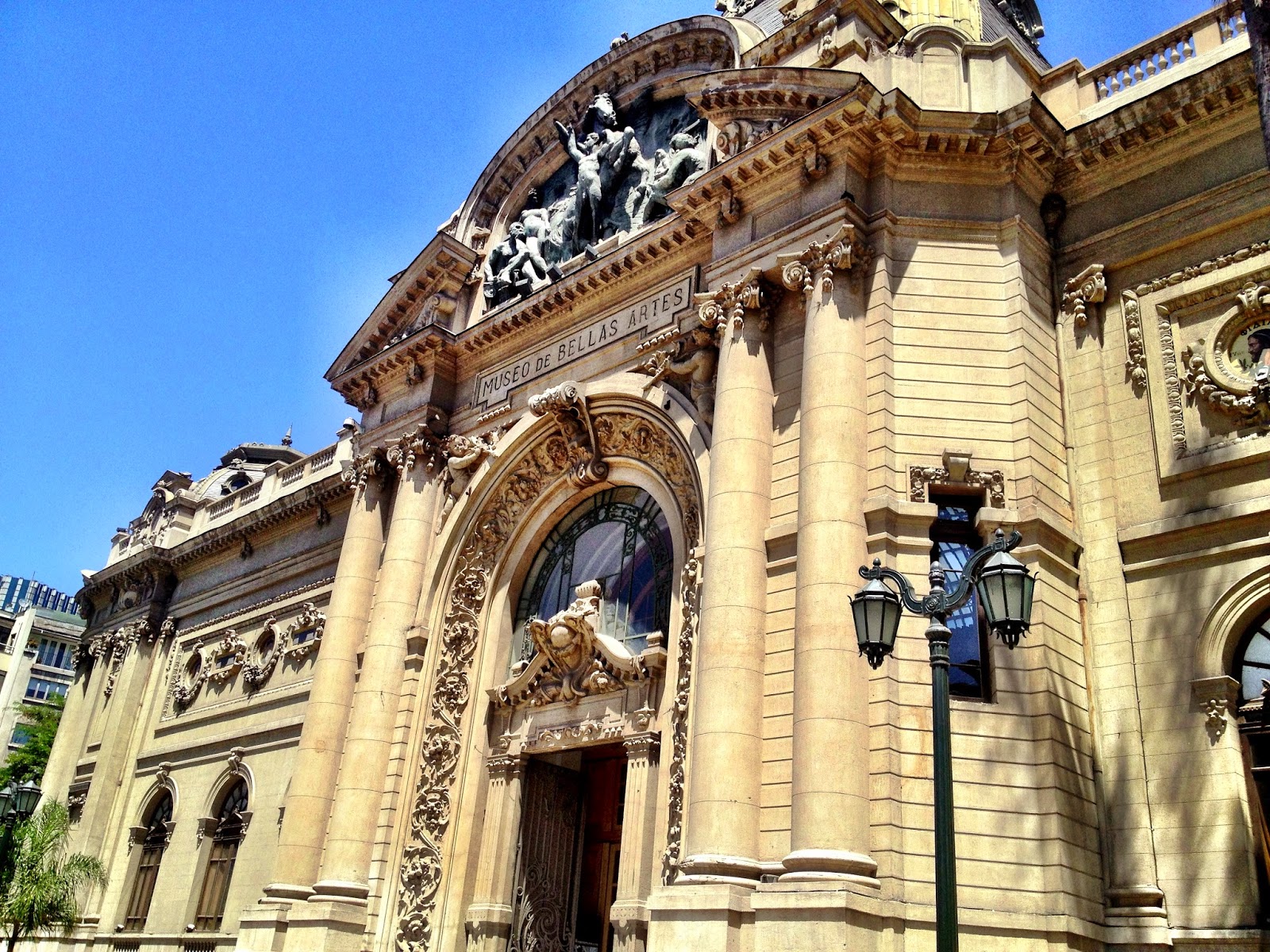 Museo de Bellas Artes, Santiago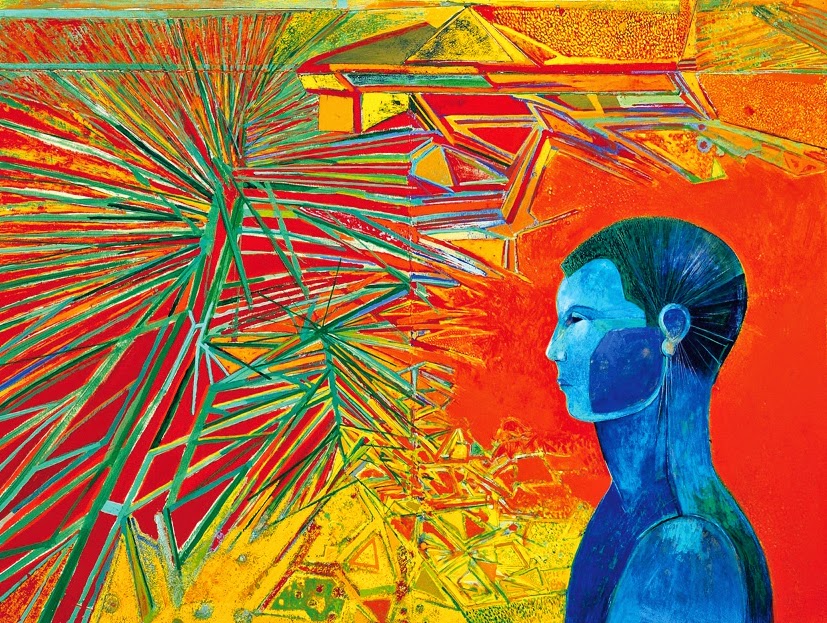 Artwork from a 2012 collection, by Benjamin Lira
7) TAKE SEVERAL WINE TOURS
Chile is known around the world for its deep red wines, so when I arrived in Santiago, the first thing I did was look for wine tours. Probably the most well known Chilean wine brand is
Castillero del Diablo
. This winery provides tours from Santiago, but I would recommend taking a tour of the less well known wineries. Why come all the way to Santiago to try a wine you can buy in Tesco?
I booked the
Ruta del Vino de Colchagua tour
with Turistik. This gave me the opportunity to explore the Colchagua Valley, and two of the vineyards that make the most of this wine region.
First stop was the
Montes Winery
, known for it's premium Chilean wines, and stunning views both inside and outside the winery.
A selection of Montes wines
An angel keep a close watch over my wine intake!
Our second stop was at the Santa Cruz winery, which had it's own funicular to take you to the top of the mountain for some awesome views. Sadly on the day I visited, it was cloudy and raining. But still a lot of fun!
If that tour doesn't grab your fancy, it's also worth checking out Viñas Aquitania, which sits in a stunning location at the foot of the Andes mountains.
Santiago is a great city. I hope you enjoy it as much as I did! And remember, airbnb is always an option if you're stuck for accommodation options 🙂
https://adventurebagging.co.uk/wp-content/uploads/2014/07/san-cristabal-hill-santiago.jpg
852
1280
Simon Heyes
https://adventurebagging.co.uk/wp-content/uploads/2018/10/Adventure-Bagging-Travel-Blog-WP.svg
Simon Heyes
2014-07-30 17:27:00
2018-06-10 12:03:55
7 Things To Do In Santiago