I loved travelling around Colombia. Along with Brazil, the country loves to party. They have a great culture, and the people are incredibly friendly. They have the Caribbean Coast, incredible coffee and some of the freshest fruit you will ever taste. What's not to love?
Exploring Medellin was one of the highlights of my trip, not least to see how far the city had come after sealing off its turbulent, drug-ridden past.
During the 80's and early 90's Medellin was one of the most dangerous cities in the world. Pablo Escobar, the notorious Colombian drug lord, made Medellin his home. In 1989, Forbes magazine estimated his personal net worth to be close to $25 billion.
As depicted in both The Wolf Of Wall Street, and Breaking Bad, the leading drug kings almost have too much money. They want to have fun, party, and buy lots of toys such as expensive cars and yachts. Pablo Escobar – as depicted in Narcos – was exactly the same.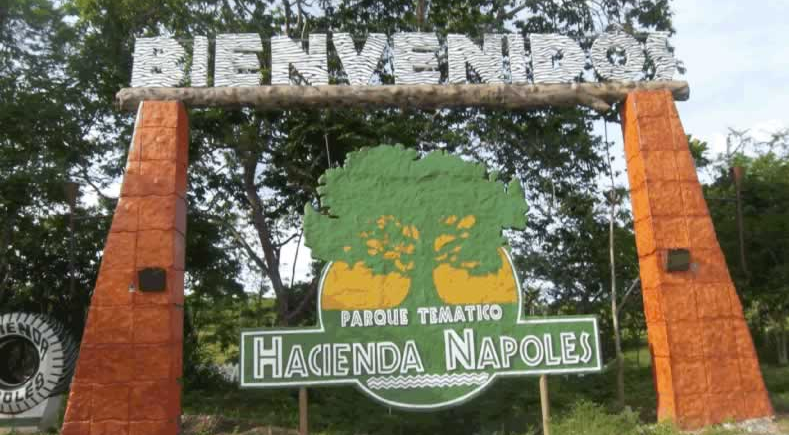 On the way to Medellin, we passed what looked like a closed down theme park. I didn't make the connection at the time, and it was only when I was talking to a local in Medellin that I found out what it was.
Known as 'Hacienda Nápoles', this was Pablo Escobar's expensive, exotic playground. He purchased the 22sq km estate in 1978, and filled it with 'toys'. As well as his main house, it had a swimming pool, a bullfighting ring, a large collection of old and luxurious cars and motorbikes, a cart racing track, jet skis, hovercrafts, giant animal statues, and a private airport. Have a look on Google Maps, and you can see some of the features of the estate. It makes fascinating viewing!
Pablo Escobar's house as it looks now. The house is both a museum and a memorial. Photo source – Husmeandoporlared.com
It was from Hacienda Nápoles that Escobar planned drug shipments, murders, bombings and all the other vicious crimes that terrorised Medellin and Colombia during the 80's and 90's.
The most expensive addition to Hacienda Nápoles was a private zoo. He bought animals from all over the world, including elephants, ostriches, giraffes, ponies, antelopes, bisons, zebras, exotic birds and hippopotamuses.
Escobar's groundkeeper gives an ostrich a cigarette. Photo source – VICE.
In 1993, Pablo Escobar's violent streak and drug cartel finally came to an end, as he was gunned down by Colombian police on a Medellin rooftop.
As word reached the streets of Medellin, locals flocked to Hacienda Nápoles and began looting, digging up floors, knocking down walls and even concrete dinosaurs seeking hidden money, jewellery and gold.
The estate eventually fell into the hands of the Colombian government, but the property became neglected, and as the maintenance of the zoo and animals was too expensive, most of the animals either starved to death, or were donated to other zoos.
But not the hippos.
The climate was perfect for the hippos, and they loved the lake environment Escobar created. As such, they flourished and thrived, and the area is now home to the world's largest wild hippopotamus population outside of Africa.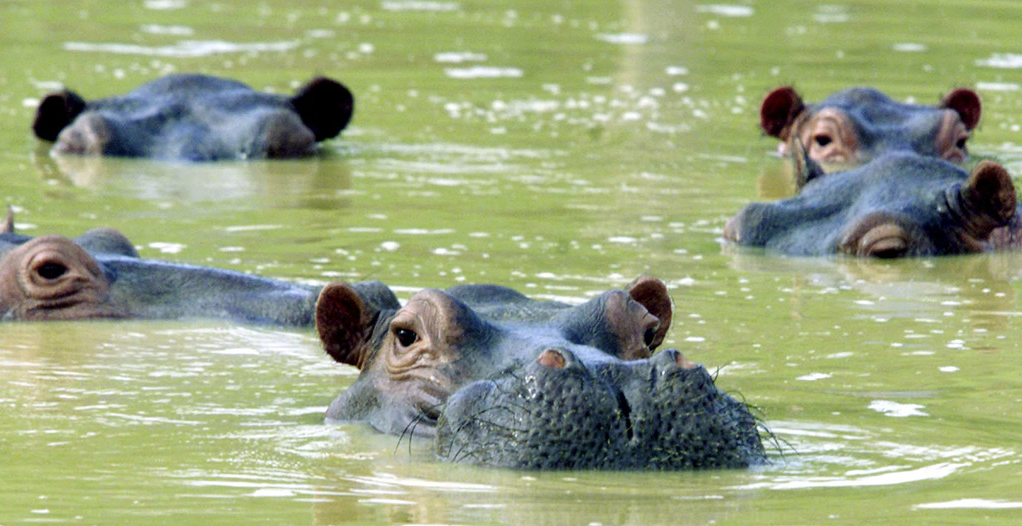 Escobar's hippos, swimming in Hacienda Napoles in 2002. Photo source – Flickr.
"They are running wild", my local friend began. "Many believe they stay around this area, but they venture away, bulldozing through nearby villages, causing havoc and destruction".
In 2011, it was reported that there were at least 30 hippos roaming wild in the countryside, and there have been calls for the hippo population to be culled.
Much like Escobar in his heyday, the Colombian government simply don't know what to do with them. Killing them would be seen as inhumane. There are too many to give to zoos around the country. On top of that, their bad tempered reputation and size (they weigh up to 3 tons) has meant no-one can get near them.
"These river horses are a pain in the ass", my friend said. "Many think the only option is to shoot them because they are too bloody big to control!"
That hasn't stopped the resurgence of the estate. With all the animals, swimming pools and other toys, Hacienda Nápoles was turned into a theme park, and is now one of the biggest in Colombia. So much so, many local tourist organisations offer tours of the park, and it attracts over 50,000 visitors per year.
Escobar's bullfighting ring can be seen on a tour of the park.
The remaining collection of old and antique cars can be seen in the park.
On one of the days in Medellin, I saw a poster in a hostel which proudly displays a tour, with the highlight: "Meet Pablo Escobar's Brother!". I declined (it was $30 and who knows where the money goes), but I dare say in a few years there will be a safari tour to see the 'river horses' of Colombia 🙂
https://adventurebagging.co.uk/wp-content/uploads/2014/04/hacienda-napoles-escobar-plane-entrance.jpg
489
670
Simon Heyes
https://adventurebagging.co.uk/wp-content/uploads/2018/10/Adventure-Bagging-Travel-Blog-WP.svg
Simon Heyes
2014-04-10 12:39:00
2018-09-04 09:45:11
Pablo Escobar: The Curious Story Of Hacienda Nápoles And The Hippos