9 Of The Best Wild Camping Spots In The UK
This best UK wild camping locations post is written before the end of lockdown, and may be updated from time to time to reflect up to date information. 
As the country emerges from lockdown, all eyes will be on travel and holidays.
But with restrictions still in place following the coronavirus pandemic, many hotels will still be closed, and a large percentage of campsites will be open, but may have the communal areas such as toilets and showers closed.
So what does that leave? Well, holiday cottages for one, but if you really want to get off the beaten track, then may I suggest wild camping.
A completely back to nature experience, and a great adventure if you've never wild camped before 🙂
I've wild camped a few times around the UK, in Scotland and the Lake District, and in addition to a wild camping checklist which I wrote a few years ago, I thought it was about time to inform you of some of the best wild camping spots around the UK.
Before I launch into the list however, I must post a few links to relevant guides around the UK. In general, wild camping is illegal in England and Wales, but is broadly allowed in Scotland.
Most landowners (such as farmers) are accommodating if you keep away from farms and buildings, be quiet & discreet (arrive late and leave early) and everything you bring into the camp, take away with you.
As such, please read these guides first:
In my opinion, the laws around wild camping in England and Wales and a little archaic and need reforming (it's still illegal to wild camp in England and Wales, other than Dartmoor). Scotland passed the Land Reform Act in 2003, which permits camping on most unenclosed land. England and Wales should do the same.
Anyhow, let's crack on and get to the UK's best wild camping locations:
1. Grisedale Tarn, Lake District
This was the spot of my wild camp back in 2014, when I was training for the 24 peaks in 24 hours challenge. This is an ideal location for wild camping, as it's mostly well sheltered, has a water source in the tarn and the streams that join it, and you get some cracking views of the surrounding mountains.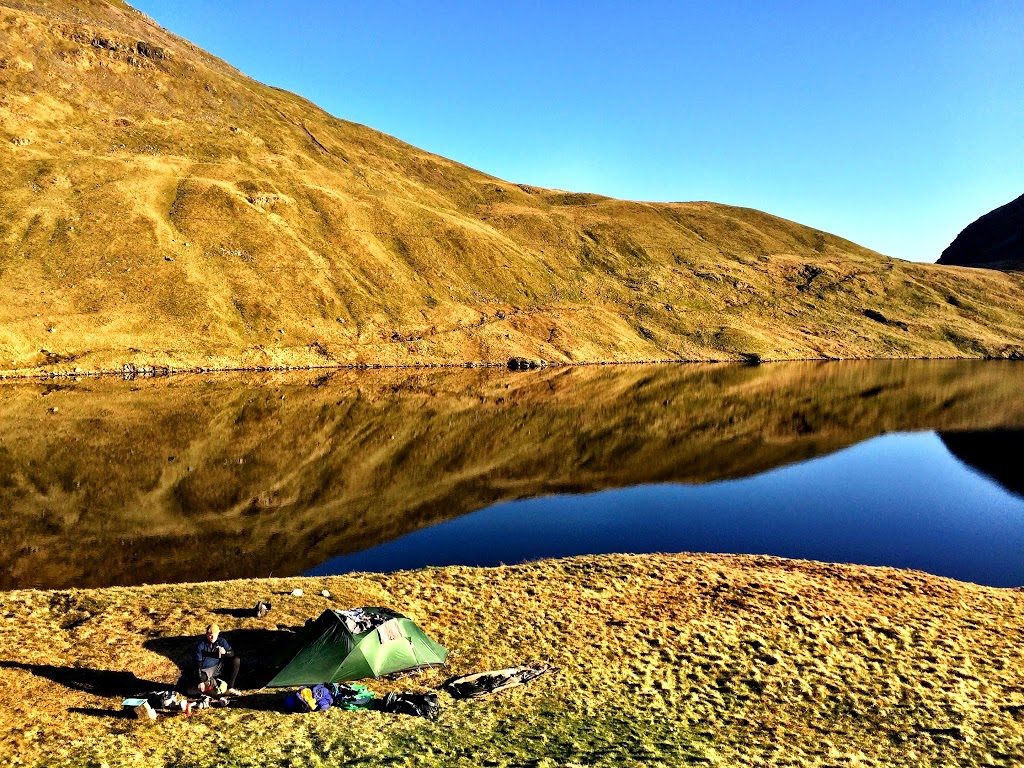 2. Haystacks, Lake District
I have a love hate relationship with this mountain. Situated in the Ennerdale Valley, it boasts impressive views over Ennerdale Water, Buttermere and Crummock Water, and with a top height of 597m, it isn't too difficult to scale. If you're walking through or over Haystacks however, it can be a bit of a navigation nightmare, as the peak is difficult to spot and there are plenty of false hills that lure you into thinking you're in one place, when you're actually in another.
That may be why this is a great wild camping spot, because you can be discreet and hide your tent easily, but you're also blessed with incredible views.
3. The Mammores, Scotland
Located South East of Fort William, the Mammores are a brilliant set of mountains. I wild camped here back in 2008 (my first wild camp!) and absolutely loved it. Set off from Kinlockleven, choose your route, and if the weather really closes in and you don't trust your tent, you can always navigate to a bothy.
From memory we pitched our tent for the night just below Meall a'Bhainne, next to stream, but sheltered from the wind.
4. Glenfeshie, Cairngorms, Scotland
The Cairngorms are a stunning set of mountains. The River Feshie flows in the very West of the Cairngorms, and the wild camping spots are aplenty along its riverside. Slighly lower level than the big Cairngorm munros, take in the waterfalls and lush green countryside across the glen.
If you do get stuck in adverse weather, just like the Mammores, there is a bothy to aim for, known locally as 'The Feshie Bothy', but on an OS map it is called Ruigh Aiteachain.
5. Dod Hill, The Cheviots, Northumberland
The Cheviots are often considered a boggy load of hill, but with some serious height gain, they offer some brilliant alternative scenery to the Lakes and the Pennines. Also, if you pick the right route, you can criss-cross the border between Scotland and England! My suggested wild camp location is situated on the Scottish side (where it's legal), and near the mountain refuge hut on the Pennine Way.
6. Moel Feity, Black Mountain, Brecon Beacons
Not to be confused with the Black Mountains in the East, the Black Mountain range is located in the West of the Brecon Beacons, and like it's namesake, it will generally be much quieter than the centre, where most people will be headed to bag Pen Y Fan. Moel Feity is open and wild, but with a forest to the North and rivers and small valleys to the South, you'll be sure to find a sheltered spot all to yourself.
7. Statts Ho, Dartmoor
Unlike the other places in England mentioned on the list, Dartmoor is one of the best places to wild camp in the UK because you don't need permission. Statts Ho is situated in the East of Dartmoor, and has a fairly flat summit, ideal for pitching your tent. If the weather is wild, drop down a little and you'll be sure to find a sheltered spot behind one of the many large rocks around. If you choose Dartmoor as your wild camp location, be aware that there are many firing ranges in the National Park, so pick your route and spot carefully. Check out the Dartmoor camping map here.
8. Lansallos, Cornwall
I've never wild camped in Cornwall, but it's on my to-do list over the next few months. There are loads of hidden coves along the South West Coast Path, on the South side of Cornwall. I've chosen Lansallos as it should be much quieter than many other areas of the coast, and there should be plenty of nooks to keep you hidden out of sight. I wouldn't advise camping on the beach though, unless you know the tides and the area very well.
9. The Merrick, Dumfries & Galloway, Scotland
Given wild camping is allowed North of the border, it makes sense to return to Scotland for the last location. Dumfries & Galloway is often overlooked in favour of the Lake District, but it is much quieter. The Merrick is South Scotland's highest peak at 843m. It has a fairly flat summit, and all being well, you'll be able to watch a cracking sunset before getting your head down.
There you have it! My top 9 wild camping spots around the UK.
Are there any locations you would recommend? Let me know in the comments below!
https://adventurebagging.co.uk/wp-content/uploads/2020/06/wild-camping-lake-district-place-fell.jpg
640
960
Simon Heyes
https://adventurebagging.co.uk/wp-content/uploads/2023/07/ad-bagging-logo-23.png
Simon Heyes
2020-06-16 18:19:15
2023-06-28 15:57:15
9 Of The Best Wild Camping Spots In The UK