This years ski holiday saw me venture to the sunny* slopes of Alpe d'Huez, in the Auvergne-Rhône-Alpes region of France.
Up until last year, I have skied for at least once a week, every year since 2002. Aside from getting married, a big honeymoon to Sri Lanka and the Maldives, and a big ski holiday back in 2017, I simply couldn't afford a ski holiday last year.
So when the wheels were set in motion for a long weekend skiing early this year, I didn't hang around in sorting out my first trip since Verbier in 2017.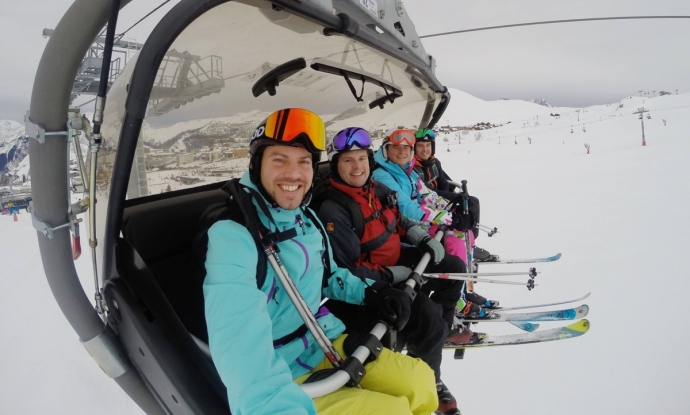 I love everything about a ski holiday; landing near the mountains, the fresh Alpine air, the adrenaline, the apres ski, meeting like minded people, and generally switching off from life back home.
We picked Alpe d'Huez because of it's proximity to the airport: it is 1.5 hours from Grenoble – one of the shortest transfer times in the French Alps.
Four of us locked down the dates for Alpe d'Huez, and I did the rest. Read my post about booking a cheap ski weekend and you'll understand how we managed to go the Alpe'd Huez – all in – for 4 days for £365 each.
INTRODUCING ALPE D'HUEZ
Alpe d'Huez is a ski resort that lies between 1,250 to 3,330 metres above sea level.
It has a reputation of being a resort that boasts lots of sunshine. In fact it is aptly named 'l'Isle au Soleil' (Sunny Island) due to the high percentage of sunny days it enjoys throughout the year.
It is France's 5th largest ski area, with 250km of pistes to have a go at across the Grand Domaine Ski Area. There are 84 ski lifts giving access to 41 green pistes, 34 blue pistes, 40 red pistes and 16 black pistes.
It has one of the largest areas of nursery slopes and green runs, making it a perfect location to go skiing with kids. Most of the runs back to the resort centre are green.
At the very top – Pic Blanc – there is glacial skiing, and access to the tricky Tunnel black run, and Sarenne – the longest black run in Europe (we did it twice – great fun!).
It's not the prettiest resort, but there is a lot of renovation going on, with traditional wooden chalets and Savoyard style hotels and buildings popping up, so it's certainly not sore on the eyes. There is plenty of charm in the chalet-style restaurants and bars in town.
It is due to be linked with Les Deux Alpes by 2021, which will make it the 3rd largest ski area in Europe, behind the Portes du Soleil and the Three Valleys (Val Thorens, Meribel & Courchevel).
⬇️⬇️ Check out the vlog from Alpe d'Huez below! ⬇️⬇️
OUR SKI HOLIDAY IN ALPE D'HUEZ
Our custom built ski weekend began at Stansted Airport, as we boarded a Ryanair flight to Grenoble.
Once we sorted our car hire admin, we hit the road, stopping only once as we made a bee line for the slopes of Alpe d'Huez. As we got a flight at 7am, and the transfer was only 1.5 hours, we booked a half day ski pass for the same day we arrived. This is a ski holiday, so you have to maximise the time on the slopes!
Our accommodation was an Airbnb apartment towards the South of the main town of Alpe d'Huez, close to the blue Village run, and a 20 minute walk uphill to the centre of town.
On arrival, we went to collect our skis, and got kitted out for our afternoon of skiing.
To warm up the legs we got the Romains chair lift and hit the Bergers blue run, and some of the nursery slopes.
Skiing is like riding a bike: once you get back on, you never forget, and boy was it enjoyable!
THE LONGEST BLACK RUN IN EUROPE
After a good night's sleep, day 2 was all about exploring as much as the ski area as we could. Starting with the longest black run in Europe.
After taking Marmottes 1, 2 and 3 up to 3000m, the final ascent to the top of the ski area is via. the Glacier chairlift. The views from the top are spectacular…but sadly it was windy and snowing, so I don't have a picture to share!
The 16km black run begins with a narrow entrance, and then ungulates left and right for several kilometres. I have to confess – possibly because the snow conditions were good – that it's not a difficult black run at all. In fact the last 3 or 4kms are simply a flat stretch of piste, so you just pootle along until you reach the Chalvet chairlift (warning – this is the slowest, longest lift EVER!).
This is the longest black run in Europe though. So we did it again, just for good measure 🙂
Then we explored the rest of the ski area over the next 24 hours.
Wondering where to ski to get the best views, best scenery and best pistes in Alpe d'Huez? Read on…
THE BEST PISTES IN ALPE D'HUEZ
In no particular order, these are my favourite runs in the Alpe d'Huez ski area:
Balcons – a black run that starts at the top of the Marmottes 2 chairlift, this is usually steep and mogully, and have a few pine trees thrown in for good measure.
Herpie and Hermine – these blue and red runs respectively as on the glacier, and usually have fantastic snow conditions, as well as amazing views of the surrounding mountains.
Bergers – a lovely blue run that gives you a fantastic view over Alpe d'Huez and the mountains beyond.
Petite Sure – a nice red that takes you back into the centre of the resort. It starts at the top of the Signal chairlift, and if you follow Alpe d'Huez on Instagram, this is the staple picture they will always post at the start of each season:
View this post on Instagram
Poutran – this red run starts at the top of the Les Jeux chairlift and runs all the way down to Oz En Oisans, via. the L'Olmet red run. It provides great views of the valley below, and is a bit lower, so there is a lot of tree lined skiing:
Olympique – a brilliant, wide red that turns into a green run and takes you back to the resort. It starts at the top of Marmottes 1. If it's speed you're after, this is the run to do it on. I clocked 91km/h on this red run. Go early, or later though, and it can get packed with advanced ski school kids, as shown in the pic below!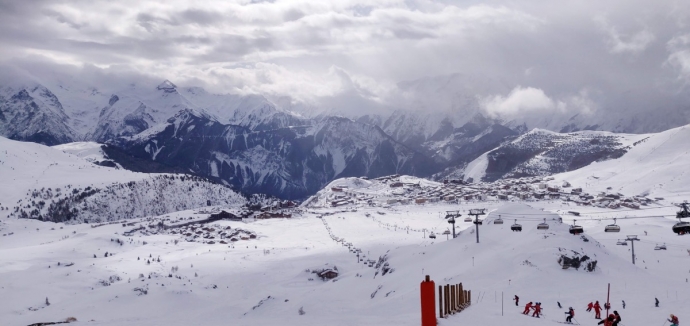 WHAT'S THE APRES SKI LIKE IN ALPE D'HUEZ?
A very important question! Like any ski resort, there will always be one or two bars that you always end up frequenting, because you like the people, ambiance and prices.
The good news is that there are plenty of bars in Alpe d'Huez, and they are dotted all over the resort, so you can't go wrong. There is a free ski shuttle bus that motors around the resort, but be aware this stops running before midnight, so plan your evening well!
Here are my favourite bars for apres ski in Alpe d'Huez:
Indiana – this was our favourite. Happy hour until 5pm ( jugs of lager for 12 euros), lots of seating, live sport (football and rugby especially), friendly staff, and a table football game in the corner. Lovely.
Smithy's Tavern – located further up the hill, Smithy's has a good bar menu, loads of seating and runs quiz nights and other events during the week. Just watch the steps on the way down.
Underground Bar – one for the later crowd, if you find this bar when there is live music playing, you'll have a brilliant night.
Eight Bar – a bit more expensive than the other bars, but selling a range of beers, Eight Bar is located at ground level, with the Caves nightclub below. This place has a pool table too, although it's always in demand, so get there earlier to make use of it. This bar also does themes throughout the week, and the bar staff throw their all into it. Good fun! Located opposite Smithy's Tavern.
L'Igloo – the main after hour club in the resort. Dark and dingy, but I'm told you can have great fun if you want to keep drinking and dancing until the early hours! Located next to Smithy's Tavern.
La Folie Douce – no ski holiday would be complete without a visit to one of the many Folie Douce's dotted around the Alps. The one in Alpe d'Huez is smaller than the others, but they still know how to party. Head to the top of the first Marmottes lift and you'll see it in full swing below after 3:30pm.
WHERE ARE THE BEST RESTAURANTS IN ALPE D'HUEZ?
We found an absolute gem of a place, located on Route de la Poste, in the centre of town. A family run, chalet style restaurant, L'Edelweiss serves up everything you want from a French mountain restaurant – great steak dishes, raclette, fondue and a range of other French home cooked food.
In fact it was so good that we went back there two nights in a row. My recommendation? Go for the potence de boeuf (around 22 euros each, share between two) or the cheese fondue (again, around 20 euros each, share between two). Both were excellent:
There is another great restaurant directly opposite l'Edelweiss, called La Passe Montagne. This has a great reputation, and serves up excellent food, but is slightly more expensive than l'Edelweiss.
If you're not fussed by French food, head to Smithy's Tavern. They do some excellent burgers, pizzas, chicken wings and ribs.
RESTAURANTS ON THE MOUNTAIN
The Folie Douce has a self serve restaurant attached to it, called La Fruitiere, and it is excellent. If you want to spend a bit more money, have open fires, wooden tables and sheepskin rugs much further up the mountain, give La Cabane a try. It is a traditional wooden alpine style restaurant, located in the Les Bergers ski area, and boasts a large South-facing terrace with panoramic views of the mountains.
Also try Le Signal 2108 Restaurant – it has excellent views of Alpe d'Huez and serves up traditional Savoyard food.
WHAT ARE LIFT PASS PRICES LIKE?
Alpe d'Huez is surprisingly affordable all round – accommodation, food, beers and the ski passes. A 6 day ski pass of the whole ski domain costs 272 euros (prices correct as of March 2019). But there are offers to be had. For example, our first day of skiing was the Saturday, and they had an offer running for an all day pass for 47 Euros.
When you compare that to the Hemel Hempstead Snow Centre (an adult ski pass on a Saturday for 2 hours is £51) or the MK Snow Dome (an adult ski pass on a Saturday for 2 hours is £43), then 47 euros for a full day is very reasonable indeed!
Check all the lift pass offers for Alpe d'Huez at this site – https://skipass.alpedhuez.com.
SUMMARY
If you're looking for a long weekend skiing, Alpe d'Huez is well worth a look. Cheaper than many of the bigger resorts, easier to get to from Grenoble Airport, a wide range of accommodation to suit all budgets, and – given we went in early February – the slopes were relatively quiet away from the main drag.
The ski area has some challenging runs, some nice wide reds, tree runs, the longest black run in Europe and loads of green nursery slopes for those wanting to visit with kids, or those who aren't ready for blues and reds yet.
We'll be heading back to Alpe d'Huez next season for all of these reasons, and so if you plan on visiting, I hope you enjoy 'l'Isle au Soleil' as much as I did!
If you have any questions about skiing in Alpe d'Huez, give me a shout on social media, or leave a comment below.
Thanks for reading!
*it wasn't sunny when we were there. The sun came out the morning we left! Booooo!
https://adventurebagging.co.uk/wp-content/uploads/2019/03/alpe-d-huez-ski-selfie-go-pro.jpg
773
1200
Simon Heyes
https://adventurebagging.co.uk/wp-content/uploads/2018/10/Adventure-Bagging-Travel-Blog-WP.svg
Simon Heyes
2019-03-15 10:55:13
2019-04-10 11:02:06
A Long Weekend Skiing In Alpe d'Huez