I've FINALLY visited Bruges! What a place! The back story: I've wanted to visit Bruges ever since I read Monica from The Travel Hack's boozy Bruges weekend post back in 2014. What could be better than sitting in the main square, sipping Belgian beer in the sun, wondering if the Bruges Belfry is wonky?!
Bruges sounded ideal for a city break. Everything I liked, wrapped up in a pretty little town. Chips, mayo, vast amounts of beer (see the separate post), waffles, amazing chocolate, scenery, canals and some amazing architecture. Having been to Amsterdam several times, Bruges seemed like a less touristy, cleaner version (sorry Amsterdam fans).
The opportunity for a weekend in Bruges came about when a friend of mine spotted a Eurostar sale. Seats were discounted on a number of different locations throughout Europe. But we wanted to go somewhere different…and Bruges fitted the bill perfectly. We managed to grab four return tickets from London to Bruges for 60 Euros each. 60. EUROS. EACH. Direct from London, to the train station at Bruges, with a little change at Brussels. Even better, the journey would take 3 hours 30 mins (roughly), including the change time. That's less time than it takes to get from London to Edinburgh….and probably cheaper.
The Eurostar sale was on in March, so if you fancy a long weekend in Bruges, keep an eye out for their sale around the same time next year!
THINGS TO SEE AND DO IN BRUGES
All my recommendations of things to do in Bruges can be found below in bold. But you don't have to write them down or Google them. I've added all the sights, buildings, restaurants and beer bars on a Google Map that you can open on your phone as you wander round Bruges 🙂
FRIDAY
Our Eurostar train on the Friday departed from London at 0855, landing us in Bruges around lunchtime – the perfect time to start sampling the food in Bruges! 🙂
As you can bring your own food and booze onto the Eurostar, we started with a prosecco-filled breakfast (check out the creepy hand holding the bottom of the bottle, LOL!).
Bruges train station is based in the South West of the city, and around a 20 minute walk to the centre. As we had numerous bags, a buggy and a baby, we grabbed a cab to our apartment. Located around the corner from the oldest pub in Bruges, Cafe Vlissinghe, we booked it through Airbnb. A lovely three bedroom, top floor apartment with plenty of space. Have a look around Airbnb if you need accommodation, as there's plenty of choice.
We dumped our bags, grabbed a city map, and headed towards the centre.
The first thing you'll notice (and love) are all the canal-side gingerbread houses – the main feature of any Bruges keepsake fridge magnet.
I think the first hour or so of our trip was spent looking at the buildings, ogling the menus of various restaurants, and waving at happy tourists on canal boat rides.
We meandered through the streets, and finally made it to the market square. Filled with bars, restaurants, artists, photographers and tourists sipping Belgian beer, the market square is well worth spending some time in, if only to people watch. There are also plenty of incredible buildings to look at and around too, including the famous Belfry Tower, the City Hall, and the Provincial Court.
You can take a trip to the top of the Belfry tower to get some amazing views of the city….but we were very hungry by this point. And there was a big queue 🙂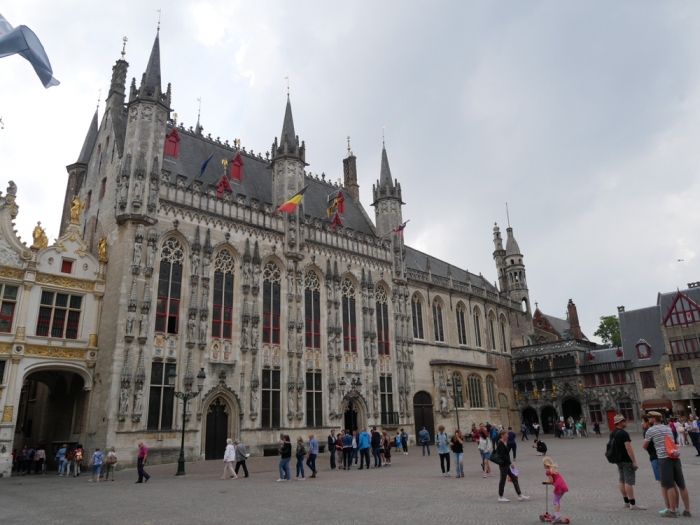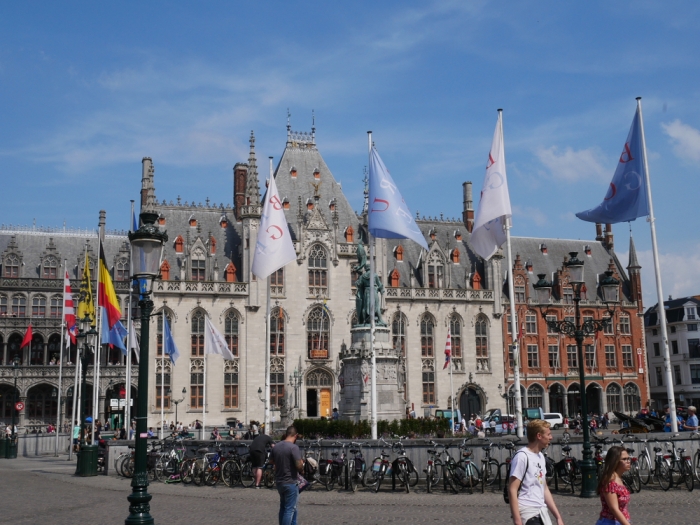 Just to the left of the provincial court building above, you'll also notice a balcony with people drinking beer. This is the Historium Bruges, where you can learn the history of Bruges, and then have a beer at the Duvelarium after, and take in the views over the market square from the balcony.
We had lunch in one of the restaurants on the market square, and I tried my first Bruges staple meal: carbonade flamande (or beef stew). Here I also tried my first staple Bruges beer – Brugse Zot.
From our lunch spot, we decided we needed a bit of a walk around, so we headed down the pedestrianised Sint Amandsstraat, filled with local shops, bars, tea rooms and restaurants.
After a good loop of the South West part of the city, we came back around to near the market square, where we found one of our favourite chocolate shops – Dumon Chocolatier. The chocolates from here are incredible, and they have every flavour you can possibly imagine. We grabbed a little mixed bag of Belgian chocolate each, and continued our exploration of the city.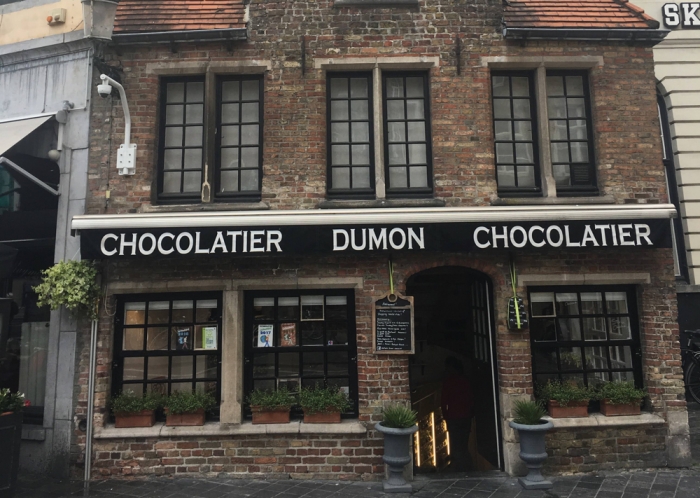 On our way back to our Airbnb apartment we passed one of the most photographed and important sculptures in Bruges – the giant plastic whale.
Made of various items of white and blue plastic, it might not be very Belgian, but it is a significant message to stop polluting our oceans with plastic.
For dinner on the Friday night, we dined at a little restaurant close to Cafe Vlissinghe (and our apartment), called Restaurant Cezar. A quiet, unassuming place, the food here was excellent and the staff incredibly friendly. I went for the beef carpaccio and the Flemish beefstew – both were excellent 🙂
SATURDAY
Start the day right, get a good breakfast.
We had been given a recommendation of a brunch place across the city, so decided to go and check it out. What a place. Called That's Toast, it caters for everyone, in a friendly, Instagramable setting.
For breakfast I had the Bruges equivalent of a full English, a latte, and a mimosa. OH YES.
Following our delicious breakfast, we decided to explore more of the South of the city, and headed to Minnewater Lake.
A very peaceful spot to sit a people watch for 10 minutes, Minnewater Lake is surrounded by beautiful buildings, homes and canals.
Close to Minnewater Lake is the unique closed home and garden environment, known as Begijnhuisje (Begijnhof). This tranquil convent garden was founded in 1245, and was once home of the beguines, emancipated lay-women who nevertheless led a celibate life. Carrying on that tradition, the area today is mostly inhabited by nuns and Bruges women who have decided to remain unmarried.
The Begijnhuisje is incredibly close to the main tourist area, so if you enter from the Minnewater Lake side, you'll pass the 'ssssshhhh!' signs….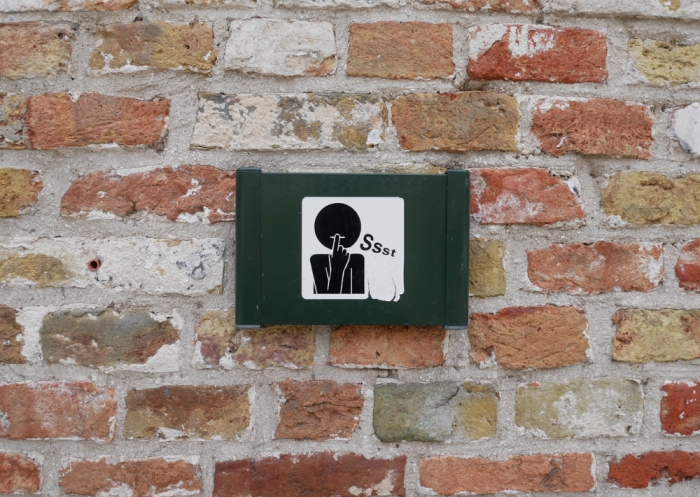 …then you'll head into the garden area, where you have to remain silent, in respect of the tranquility of the gardens, homes and their inhabitants…
….passing the chapel on your right, and then you'll pop out the other side onto a busy bridge, with canal boat rides zooming underneath, and the start of the main tourist area. Going from complete silence to tourist chaos is quite the juxtaposition!
After a lot of walking around, it was time for a sit down. I've written a separate post on the best beer bars of Bruges, but one round the corner from where this photo was taken is the 't Brugsch Bieratelier, famed for it's 12 beer tasting float. If you're a beer fan, I'd recommend trying it with a group of friends!
What food goes well with beer? Chocolate of course! So we stopped at the chocolate shop on Wijngaardstraat stock up on gifts for friends and family back home. If you're a chocolate fan, I'm sure you'll appreciate the time we spent trying different chocolates in these shops…
You thought I was going to make this next one bold at the beginning didn't you? You can't go to Bruges and not take in the sights of the city without taking a canal boat ride 🙂
There are various hop on, hop off points dotted around the city, for example this one, opposite Sint-Janshospitaal (St. John's Hospital). It functioned as a hospital from the 12th-19th centuries, making it one of the oldest hospitals in Europe. Now a museum, it has an impressive array of artefacts and paintings.
From here you can hang a right at the Catholic church and head along Dijver, which takes you to THE postcard picture spot for Bruges – Rozenhoedkaai.
By this point in the day we were starting to flag, to whilst the girls headed back to the apartment, the boys headed to Cafe Vlissinghe for a few beers and a spot of boules!
Dinner on Saturday night was a quiet affair – a mixture of dim sum and Chinese!
SUNDAY
Our train back to Brussels was at 14:50, which gave us time to do more exploring on the Sunday morning. We found another lovely cafe for breakfast (where chocolate is melted into hot milk to create an AMAZING hot Belgian chocolate), called Patisserie Academie.
The rest of the morning was spent relaxing.
Now, had I have known about the windmills that lined the old city wall, I would have ventured out to look at a couple of them, but alas, I only saw them during our taxi ride back to the train station. So if you have time, go and have a look at the Koeleweimolen windmill.
Last but not least, you can't go to Bruges and not try the waffles. My goodness, these are amazing.
One of my Twitter followers highly recommended Chez Albert, but there are many places to grab some good waffle action, such as Claire's delicious concoction from Panos.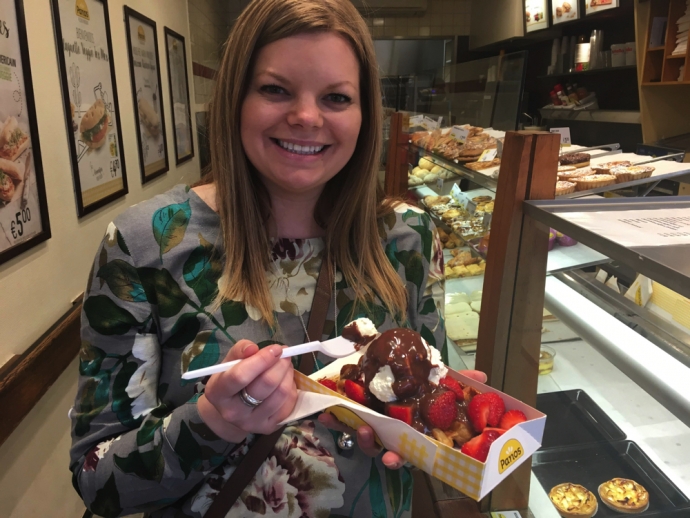 And that was that! A brilliant weekend spent in Bruges 🙂
Oh, one last tip – if you're getting the train to and from Bruges to connect to the Eurostar back to London, you might get confused with which Brussels station to stop at, as it seems like there are 3 or 4!
Well, you should head for Brussels Zuid and Bruxelles Midi are the same station…so that's the one (two) you should aim for 🙂
Even though we were there for a little under 3 full days I really feel like we only explored part of the city of Bruges, so I really need to go back!
THINGS TO DO IN BRUGES – THE FULL MAP
If there's anything else you would add to the Bruges itinerary, please feel free to make a suggestion in the comments below!
PIN IT FOR LATER
Disclaimer! Some of the hotspots highlighted in the post above were recommended by Visit Flanders, and I wouldn't have been able to discover so much of the city without their input, so thanks guys!
https://adventurebagging.co.uk/wp-content/uploads/2018/08/bruges-picture-postcard-belfry-background.jpg
625
950
Simon Heyes
https://adventurebagging.co.uk/wp-content/uploads/2018/10/Adventure-Bagging-Travel-Blog-WP.svg
Simon Heyes
2018-08-23 15:44:07
2018-11-29 13:39:42
3 Days In Bruges – A Weekend Itinerary