12 Of The Best Beer Bars In Bruges
When you think of Bruges, you should think chocolate, frites and mayonnaise, and you should think beer. Strong beer.
Belgium is renowned globally for its blonde / strong / strawberry / craft beer, so when I had the chance to visit Bruges earlier this summer I wanted to try all the beers the bars and pubs of Bruges had to offer.
One thing I learnt quite quickly in Bruges was that ordering beer can be a bit of a minefield. I was sat in Delaney's Irish Pub to watch the rugby, and a friend asked me what I wanted to drink. I spun around on my chair, pointed at what I thought looked like a nice blonde beer, and before I knew it was I drinking a 9% pale ale.
For anyone wanting to last the weekend beer session, 9% is not the way forward 🙂
The main beer of Bruges is known as Brugse Zot, a very drinkable 6% blonde beer to which you will become familiar with if you're spending a weekend in Bruges, as every bar and restaurant sells it. But there are hundreds of other beers to try, and to point you in the direction of the best bars and pubs to try all these wonderful, flavoursome beers, I have created two things for you: 1) a list of the top 12 beer bars in Bruges, and 2) plotted them on a map that you can open up in Google Maps and thank me when you're walking round the city in beery merriment 🙂
Simply click on each of the icons in the map to see the location, phone number, website and opening times. You can find the best beer bars in Bruges map at the bottom of this post, or click here to open it in Google Maps.
So, without further adieu, here are my top beer bars in Bruges!
1. 't Brugsch Bieratelier
I had to start with one of my favourites. 't Brugsch Bieratelier is known for its 12 beer tasting float. Yes, 12 beers lined up on a wooden plank for you to try. I would advise going here after you've eaten. Grab a table in the sun, and watch the envious tourists ogling your plethora of Belgian beers.
2. The Druid's Cellar [Currently Closed]
Dark, dingy, candlelight and positively wonderful, this bar is run by a friendly Geordie bloke who knows a thing or two about beer. Walking down the stone stairs past the Leprechaun entrance (yes, really) transports you into another world where you can drink Belgian beer to your hearts content if it's raining outside.
3. 2be/Dubbel bvba
A tourist attraction in itself, 2be is known for its famous 'beer wall'. Literally hundreds of beers in a glass cabinet running from the entrance, all the way to the bar. If you're not careful you could spend more time identifying the beers in the beer wall rather than drinking the beer!
4. Cafe Vlissinghe
Probably my favourite bar / pub in Bruges, and also boasts the title of the oldest pub in Bruges! Located off the beaten track and away from the tourist centre, our Airbnb apartment overlooked the beer garden at Vlissinghe, so we spent a lot of time here. Wonderfully traditional, cheaper beers than many of the other bars, a boules court and a plentiful beer menu make this THE place to be if the sun is out and you want to get away from the crowds.
5. The Trappiste
I think this is the only bar on the list I didn't visit, but Le Trappiste is a specialist beer bar located in an 800 year old medieval cellar in the heart of Bruges, and is known for its 5 beer tasting float. If you're a fan of the Druid Cellar, you'll probably like this bar too.
6. Huisbrouwerij De Halve Maan (De Halve Maan Brewery)
You can't visit Bruges without visiting a brewery, right? These guys brew the beer of the city, Zot, and a number of other beers. Situated in a nice little courtyard near the centre, this place is also good for a spot of lunch.
7. Duvelorium Grand Beer Café
Home of the Duvel beer, and a brilliant place to people watch as it overlooks the main square. If you're in the main square and see a balcony with lots of people sat drinking beer, you are looking at this place.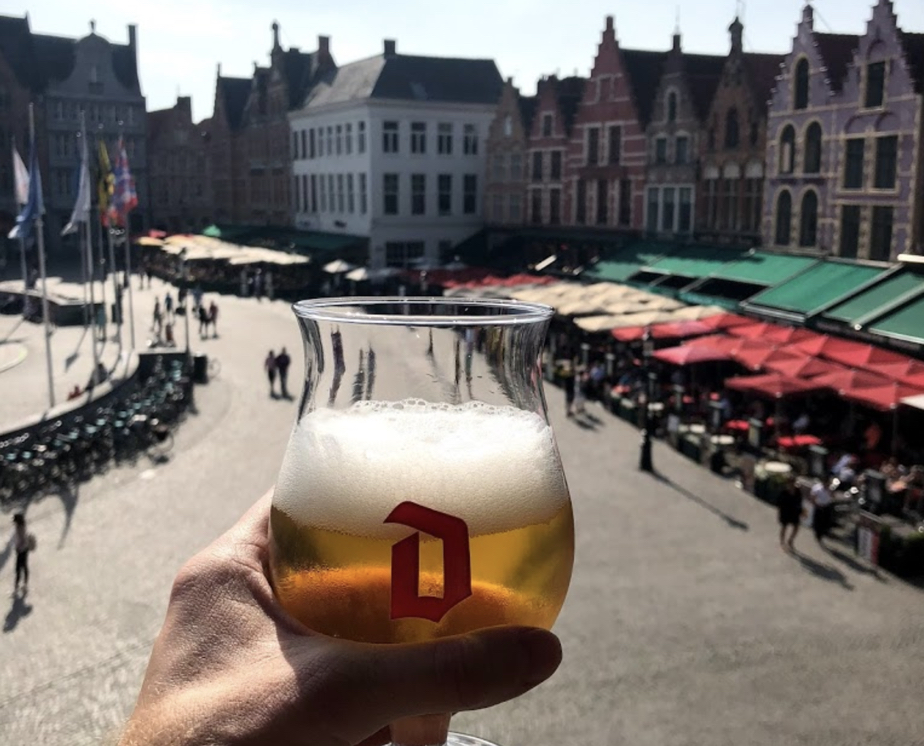 8. De Garre
I was recommended this bar by a friend of mine, and it didn't disappoint. This place brews their own beer, a lovely 11% (!) tipple called Garre. A hidden little tavern, don't spend too long in here or you might end up wobbly!
9. Delaney's Irish Bar
I know, I know…I should be giving you the authentic, traditional beer taverns to try in Bruges, but I also want to mention the bars that cater for the lesser beer aficionados. For anyone wanting to catch sport, be it rugby or football, you can watch it at Delaney's Irish Bar whilst trying a range of beers on tap at the bar. It's also a sizeable place, so you're more than likely to get a seat.
10. The Monk
Another sports bar, ideal for watching football. Much smaller than Delaney's, but also a bit further away from the centre.
11. Don Quichotte
Located in a little area behind the main market square, this place and a number of other bars next door, is where – I imagine – the party gets started late at night. Another bar I didn't visit, but another option for any mad sports fans out there.
12. The Barhaus
Last but not least, give the Barhaus a try. They offer a beer tasting experience every evening to help explain the difference between Trappist beers, Abbey beers, Tripels, Quadrupels, ales and more for just 12.50 EUR.
Bruges Beer Bars Map
Check out the map below for my selection of the best beer bars in Bruges!
Have been to Bruges? Agree with my list of the best beer bars and pubs? Feel free to comment below and add more to the list 🙂
PIN IT FOR LATER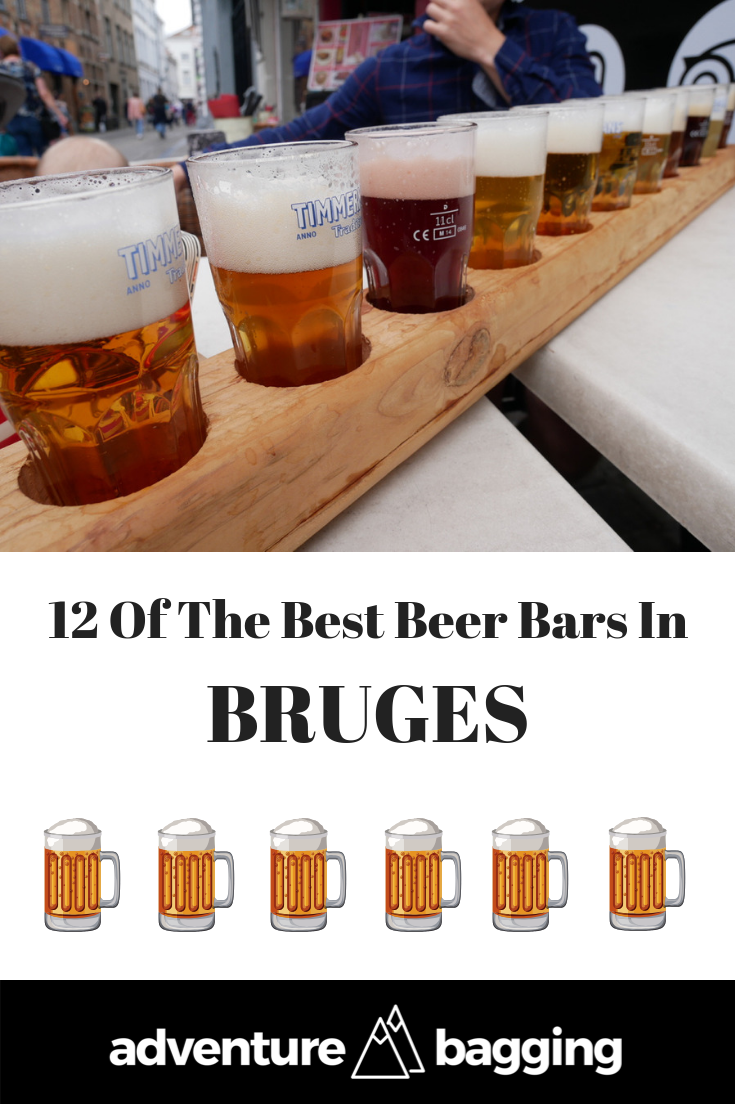 https://adventurebagging.co.uk/wp-content/uploads/2018/08/best-beer-bars-bruges-zot.jpg
1152
2048
Simon Heyes
https://adventurebagging.co.uk/wp-content/uploads/2023/07/ad-bagging-logo-23.png
Simon Heyes
2018-08-16 12:21:23
2023-04-25 14:33:36
12 Of The Best Beer Bars In Bruges