As I started writing this post, I began to count how many times I'd been on safari. Twice in South Africa, three times in Zimbabwe, and once in Kenya. I'm very lucky to have been on so many great safaris, but you could forgive me for thinking that I'd seen it all, and that Liwonde National Park in Malawi couldn't provide me with any new African wildlife experiences.
How wrong I was.
As our bus turned off the main tarmac road between Zomba and Mangochi, there was a sense of excitement that we were now close to the entrance to Liwonde National Park. Not so. A sign pointed out that the park gate was 13km away. 13km on a bouncy, dusty dirt track that gave my bum cheeks one hell of a workout.
BOTOLO, BOTOLO!
As we weaved pass the remote boreholes and small villages, we began to notice a common trend. Children ran at full pelt towards our bus, shouting 'botolo, botolo!'. I asked our guide what they were shouting, and she said they wanted to collect any plastic bottles we had on the bus.
"The children use them to collect water, and also fill them with a home-made local drink, which they then sell to others for small change", said our guide.
And with that I began throwing out my empty bottles, feeling strange because rather than littering, I was contributing to a local form of recycling!
THE SHIRE RIVER
If you arrive from the South or West in Liwonde National Park, you have to swap vehicles: bus for boat, as Mvuu Lodge and Camp lie on the Eastern side of the Shire River.
But I warn you, there are hundreds of cormorants nesting on this side of the river. With their white, toxic-smelling poo, palm trees look more like igloos, so don't hang around – get next to the breeze of river as soon as you can!
And with that, I got my reward. Not only was the view of the Shire River magnificent, but a hippo kept raising it's big, soft, leathery head close by in the shallows.
The Shire River is the longest river in Malawi at around 250 miles long. So long in fact that it flows into the Zambezi River in Mozambique.
Thankfully our journey across the river only took 15 minutes, and after avoiding more hippos and white cormorant bombs, we finally arrived at Mvuu Lodge.
MVUU LODGE AND CAMP
Mvuu Lodge is one of the few places to stay in Liwonde National Park. We made our way along the wooden slatted walkway, and got a glimpse of our accommodation.
Mvuu Lodge sleeps 16 people in 8 double or twin rooms, with a veranda that overlooks a small lake on the opposite side to the river.
For more rooms and a slightly more authentic experience, Mvuu Camp next door sleeps 36…although watch out for crocodiles and elephants in the night 😉
The main living area is the real highlight of Mvuu Camp through. A relaxing, open space overlooking the Shire River to the West means you get some stunning views and unbelievable sunsets.
Each room also has a 'back to nature' outdoor shower, which I took advantage of on the final morning. As this is out in the wild, I had a minor encounter with a monkey who tried his luck at getting in my room when I was in the shower. Jumping around naked, waving a shower gel bottle telling a monkey to 'shooo' probably wasn't my finest hour 🙂
On our last night, we were driven to the middle of the bush and surprised with a bush dinner and barbeque. A fitting end to a great stay!
THREE TYPES OF SAFARI
Unlike my other safari experiences, Mvuu Lodge and Liwonde National Park can offer three different types of safari: boat safari, game drives and walking safaris. We had time on our hands and experienced all three.
I'll let the photos below tell the story, but the wildlife viewing was excellent. Hippos every 50m along the river, elephants drinking, warthogs mating, crocodiles sunning themselves…the list goes on. What an amazing experience.
Malawi Gin & Tonics on a boat safari on the Shire River
Hippos keeping cool in the Shire River
An elephant drinks from the Shire River
Warthogs and impala in Liwonde National Park
This may be personal opinion, but no safari is complete without a game drive in a Land Rover Defender, and when it finishes with a Malawi gin and tonic (MGT) under a big African sky, you couldn't wish for a better send off from your safari experience 🙂
Land Rovers loaded and ready to roll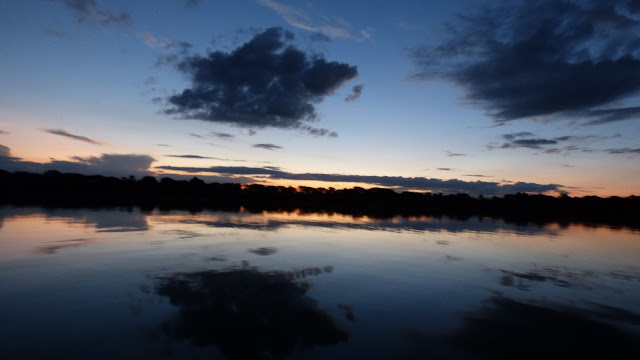 For more information about staying at Mvuu Lodge, check out Imagine Africa or Scott Dunn. The latter also provide accommodation for Huntingdon House, where I stayed a few days earlier in the Satemwa Tea Plantation.
Disclaimer: I visited Malawi thanks to an invitation from South African Airways and Malawi Tourism. While the trip was sponsored by them, the views and opinions I present here are explicitly my own. To find our more about Malawi, please do visit the Malawi Tourism website.
https://adventurebagging.co.uk/wp-content/uploads/2016/06/mvuu-lodge-shire-river-liwonde-national-park-malawi.jpg
675
1200
Simon Heyes
https://adventurebagging.co.uk/wp-content/uploads/2018/10/Adventure-Bagging-Travel-Blog-WP.svg
Simon Heyes
2016-06-04 12:52:00
2018-04-23 17:08:27
On Safari In Liwonde National Park