If you've never been for a day at the races, you need telling off. It is a great day out. Grab a group of friends, family or colleagues and get a day sorted. Ascot is one of biggest and best racecourses in the country, and only an hour on the train from the centre of London.
When I was invited by Ascot to attend the first meeting of the new 2014/2015 Jumps season, I said yes immediately. I have been to Ascot a couple of times before, but this time I was invited to watch the horses, but also to experience the launch of Royal Ascot's 2015 Fine Dining menu.
Hosted in Ascot's Parade Ring restaurant, the launch of the 2015 fine dining was a great day out. We were treated to courses from Michelin Star chefs Phil Howard and Michael Caines, as well as award-winning Ascot Executive Head Chef Steve Golding. Each Chef will be hosting a restaurant at the Royal Meeting at Ascot next year, and to celebrate their involvement, they had created a course specifically for us. Amazing!
If that wasn't enough, each course would be paired with Champagne Bollinger, the official Champagne of Ascot and Royal Ascot.
Now, I only found out about the Bollinger champagne part upon arrival, so I was thankful I'd had a decent breakfast in the morning. The last thing a guy needs at the races is to be slightly intoxicated and start betting on horses based on their lovely pink jersey colours.
We arrived, and made our way to the Parade Ring restaurant, located on the second floor. The tables were exceptionally laid out, and we were inundated with Bollinger champagne and delicious canapés as soon as we stepped through the door.
Coronation chicken on a baby gem leaf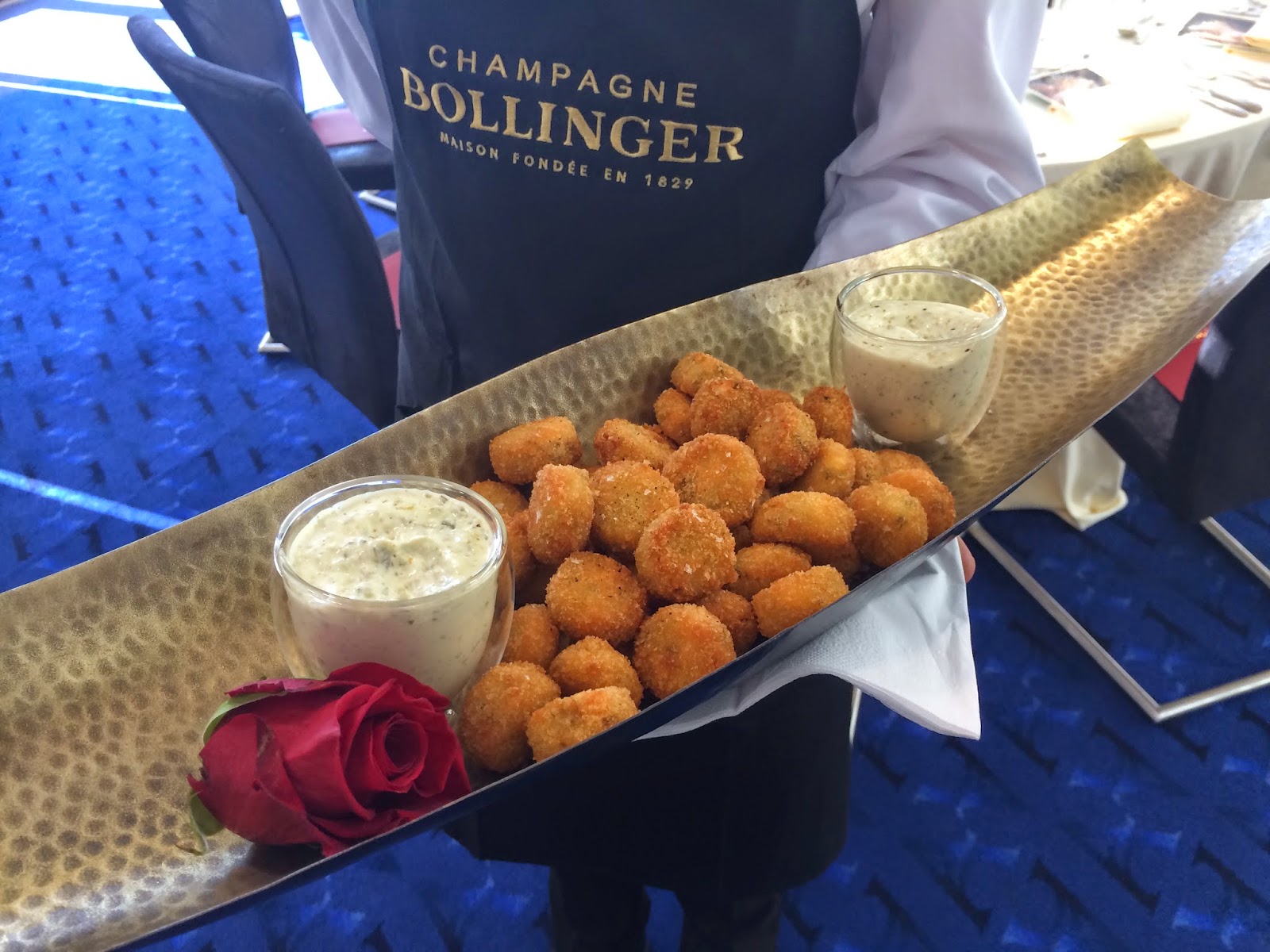 Salmon fishcakes and tartare sauce
Smoked salmon blini with creme fraiche
Parsnip panacotta with apple puree on a rosemary sable (and a free smile)
When it comes to the races, the dress code should be smart. I made the most of the occasion, and although I looked like I was off to a wedding, I donned my shirt, tie, poppy and badge, and happily began sampling the Bollinger champagne.
We were given some quick horse racing tips, a note on where to watch the racing once the races began, and then it was onto the starter.
Designed by two Michelin Star Chef Phil Howard, we were served a lasagne of crab with a cappuccino of shellfish of champagne foam.
I wish you could taste this. I have no doubt that this is one of the best starters I've ever tasted!
We washed the starter down with Bollinger Le Grande Annee 2004, a fresh and full-powered Champagne that matched the crab perfectly.
After the starter, it was time to place some bets. I went safe and followed the tipster. Both horses finished outside the top four places. I grabbed another glass of champagne and decided not to follow the tipsters advice next time.
Once my horse loss annoyance had subsided, the main course was served. A melt in the mouth beef fillet with a celeriac puree, braised cheek and a red wine sauce.
Yes, it tasted as good as it looks. Designed by two Michelin Star Chef Michael Caines, this beef fillet will be served in the On5 restaurant at Ascot.
The beef was served with Bollinger La Grande Annee Rose 2004 – just as fresh as the starter version, but this time the berry fruit flavours created a wonderful mix in the mouth with the tender beef fillet.
With one eye on the food and another on the race card, I headed up to place more bets. This time I discarded the tipsters advice, and followed some help from the Racing Post. Bets placed, fingers crossed.
Before the race began it was time for desert, and what a desert it was. An incredibly tasty (yet surprisingly light) chocolate torte with pistachio ice cream, popping candy and popcorn swirls.
Despite being reasonably full from the canapés, starter and main (and a good breakfast), this was gleefully devoured!
Time to walk off all the chocolate. We headed out to the terrace just in time to see my horses lose. Again. My other half was doing considerably better, betting based on the names of the horses and jockeys colours. Pffft.
With the Bollinger Champagne now free-flowing, it was time to change tactics. I started going for one 'dead cert', and another that was middle of the pack with good recent form. The tactics paid off. I got two winners in the next two races!
With a winning wry smile on my face, we were given a tour of Ascot. We were shown the Parade Ring, where the horses are showcased, we were shown the weighing room where the jockeys are weighed before and after the race (did you know some jockeys weight as little as five stone?!), and then we were finally shown around each of the restaurants, including On5 and the Panoramic restaurant on the top floor.
The tour finished back in the Parade Ring restaurant, where we were served afternoon tea – an amazing mix of scones, cream, jam, macaroons and little chocolate cakes!
I was now full to bursting.
A few more horses came in, so we celebrated with more champagne before finishing the evening outside, watching the brilliant fireworks show 🙂
Thousands of guests enjoy Ascot's Fine Dining facilities every year, of which there are 12 restaurants, each with their own individual menu styles, including The Parade Ring, Sandringham and Old Paddock. As well as the menus being created by Michael, Phil and Steve Golding, some menus at Royal Ascot will also be designed by Gordon Ramsay protégé Angela Hartnett, head chef of Murano.
DID YOU KNOW? 51,549 bottles of champagne, 12,000 kilos of sirloin steak and 3,500 lobsters are consumed every year at Royal Ascot? I like to think we helped them have a good start 🙂
For further information and to book, head to www.ascot.co.uk.
https://adventurebagging.co.uk/wp-content/uploads/2014/11/ascot-food-tasting.jpg
1200
1600
Simon Heyes
https://adventurebagging.co.uk/wp-content/uploads/2018/10/Adventure-Bagging-Travel-Blog-WP.svg
Simon Heyes
2014-11-16 16:01:00
2018-05-22 14:09:45
Michelin-Starred Food Tasting At Ascot