Whenever I search on Google to find the best ales in the Lake District, I get presented with results talking about the best breweries, not the best beers.
No more.
Let me start by saying beer is very subjective. I'm a Golden Ale fan, so the list below in mainly comprised of light, hoppy ales. Quite a few of them are available online now too (you can only get Wainwright in the supermarkets down South!), so I've added a link for where to purchase them.
Enough waffle – let's crack on. Here are my top 7 Lake District ales.
1. Swan Blonde
What a belter of an ale this is. I could drink it all day. Maybe sat outside near Windermere, or in a cosy pub in Keswick. Brewed by the Bowness Bay Brewing Co in Kendal, this 4% ale is delicious, and has been purchased online several times by me during the lockdowns of 2020.
What the brewery says:
"Immerse your taste buds in the compellingly crisp, deliciously dry hoppishness of Swan Blonde and sail away on a journey of gorgeously pale Lakeland water freshness. Made with light malts, pioneer, aurora and citra hops."
Buy Online – direct from the brewery
2. Loweswater Gold
My top Lake District ale until it was overtaken by Swan Blonde a couple of years ago. Brewed at the Kirkstile Inn (a tremendous pub and B&B if you've never been) near the shores of Loweswater, this 4.3% golden ale won Champion Ale Of Britain back in 2011, and still draws crowds to every pub that sells it. I once found it in a pub in Manchester, so it's slowly working it's way down the M6!
What the brewery says:
"World famous Golden Ale with a tropical fruit flavour. In cask version, the beer won Champion Golden Ale of Britain 2011."
Buy Online – direct from the brewery
3. Ennerdale Blonde
If I'm completely honest, the top 3 ales in the list are interchangeable. All three are delicious and bursting with flavour. I've visited the Ennerdale valley every year since I was one year old, so have a bias affinity to the area. So when a brewery opened and they produced a cracking Golden Ale, it didn't take long to feature in my regular drink choices when up in the North West. Brewed by Ennerdale Brewery in Rowrah, this 3.8% stunner is available in bottles online, or if you're in the vicinity, ask nicely and they might be able to offer you a full cask…perfect for a long weekend with ale-loving friends.
What the brewery says:
"A fruity, golden beer with a heady burst of floral hop aroma and a satisfying clean bitterness. A blonde for bitter drinkers, it's our best-seller."
Buy Online – direct from the brewery
4. Scafell Blonde
We couldn't have an ale in a Lake District beer list without mentioning the highest mountain in England, right? Scafell Blonde is a 4.3% hoppy blonde ale that you can drink for hours. Brewed by Hesket Newmarket brewery (who produce many cracking ales), this golden ale should be on your hit list.
What the brewery says:
"Brewed with a 50/50 blend of pale ale and lager malt to give a lighter beer to appeal to a wide variety of drinkers and to allow the hop flavours to dominate. Generously hopped with both British and American varieties, the predominant flavours are of citrus hops giving a Blonde beer that is inspired by modern pale ales."
5. Coniston Bluebird Bitter
A favourite of my grandads, Coniston Bluebird won Champion Beer Of Britain back in 1998, and has been a favourite with punters ever since. Probably the most underrated ale on the list, you won't get many complaints from anyone that drinks it. At 3.6% it's one of the lightest ales on the list.
What the brewery (well, CAMRA) says:
"It is, quite simply, a wonderful beer. It is exceedingly pale (21-22 units colour), with just a hint of colour in its cheeks from the dash of crystal malt. It has a massive orange fruit aroma from the challengers, balanced by biscuity malt. Juicy malt and tart hops vie for attention in the mouth while the finish is tart and hoppy but well balanced by creamy malt. The bitterness rating is a substantial 36-38. The tangy fruit lingers on the back of the tongue until it develops a hint of orange liqueur."
Buy Online:  From ASDA  from The Drink Shop
6. Cumberland Golden Bitter
The best seller from Jennings (the brewery that also produces Wainwright, you'll find this in more pubs across the Lakes than the other 5 put together. A tasty ale to enjoy in front of a log fire, this 4.0% is a solid back up to the ales above it on this list.
What the brewery says:
"Jennings No.1 golden beer acknowledges the rich heritage and tradition of the area. Its deep refreshing flavour is still very much in line with contemporary tastes. A supremely refreshing beer usingcarefully selected English hop varieties that are added at twopoints in the brewing process to give this beer its unique characteristics."
Buy Online – direct from the brewery
7. Monumental
Brewed at the Kirby Lonsdale brewery, you'll find this on tap i the Dog & Gun in Keswick, as well as many other pubs in the area. At 4.5% this is the strongest golden ale on the list, and even though it comes in 7th, this is still a cracking drop.
What the brewery says:
"A wonderfully golden ale brewed with extra pale malt, blended with English and Slovenian Golding Hops for a distinct floral aroma and mouth feel."
Buy Online (trade only) – direct from the brewery
There you have it! My 7 best Lake District ales. I'm sure there are plenty more to add to this list, so if you have a favourite, feel free to add it in the comments below!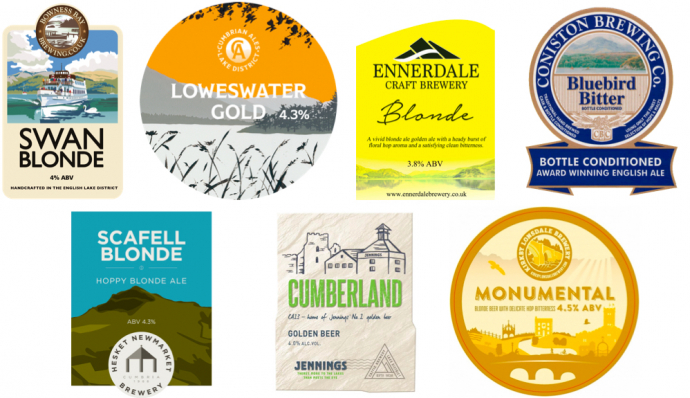 https://adventurebagging.co.uk/wp-content/uploads/2021/01/best-lake-district-ales.jpg
575
998
Simon Heyes
https://adventurebagging.co.uk/wp-content/uploads/2018/10/Adventure-Bagging-Travel-Blog-WP.svg
Simon Heyes
2021-01-08 11:15:17
2021-01-08 11:15:17
7 Of The Best Lake District Ales