Eden Locke Review – My Favourite Hotel In Edinburgh
I'm not particularly brand loyal when it comes to hotels. More often than not, I would choose to stay in an Airbnb property when I travel, whether that is for work or play.
But over the last few years I've been in a bit of accommodation limbo. The Airbnb's on offer haven't quite met the standards of previous stays, and the hotels I chose weren't great either.
Enter Eden Locke.
The design-focused apart-hotel opened in late 2017, and sits in the heart of Edinburgh, at the West end of George Street, amongst the bars, shops and restaurants of Edinburgh's New Town. A mere 15-minute walk from Waverley station, Eden Locke sits in a prime location.
SERVICE
I discovered it purely by chance, but I'm very glad I found it. The ground floor lobby is shared with the hip coffee shop Hyde & Son, with the aroma of fresh coffee greeting you every time you check in.
Speaking of checking in, I've now stayed at Eden Locke three times, and regardless of what time I've checked in (once as late as 11pm), I've always been greeted by someone smartly dressed, usually with a tweed waistcoat, and a big friendly smile. First impressions go a long way.
The hotel is new, so naturally most of the areas around the hotel look clean and unblemished. I might amend this review in a few years, but for the time being the hotel is squeaky clean.
THE ROOMS
After collecting your key card, you head to the either the front lift or the rear lift. Either way, you need your key card to activate the lift – important given anyone could grab a coffee from Hyde & Son and wander around the hotel otherwise.
Similarly, if you took the stairs, you would need your key card to exit the stairwell. Top marks for security…but it could get interesting if you were staying in the hotel, left your key card in your room and got stuck in the stairwell!
Most of the rooms at Eden Locke are an open studio style. The first thing that struck me is the amount of space you get compared to a regular hotel room. There is LOADS of space.
After dumping your bags inside the door and hanging up coats, you can either walk into the bedroom or the open lounge and kitchen. The size of bathroom is pretty considerable too.
All rooms have big comfy beds with room to walk around the bed at either side. There is also ample storage, and – this gets top marks – plenty of plug sockets around the bed, and those sockets have separate USB sockets.
In the age of smartphones, watches, iPads and more, the more sockets near the bed, the better. So Eden Locke have nailed that placement.
In the kitchen / lounge area you'll be greeted with a signature L-shaped sofa, a table, chairs and a Smart TV. You'll find tea and coffee, tubs of granola and porridge, fresh milk, and bottled water.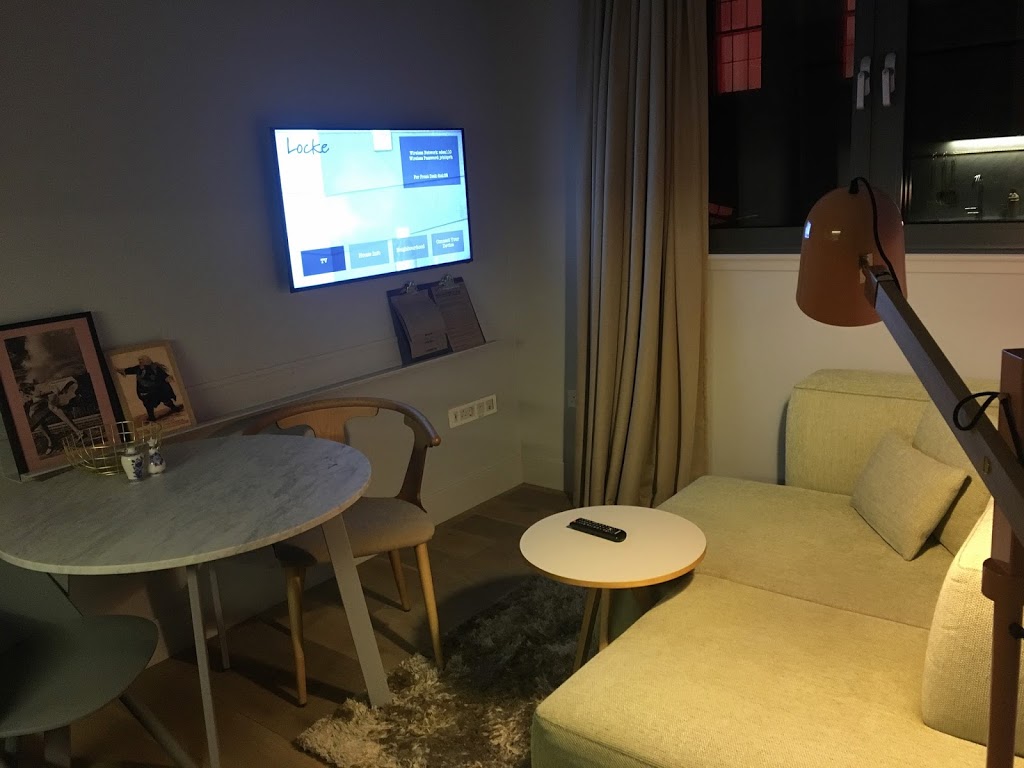 It also seems as if every room has it's own WiFi login too, which is superb and means that no-one else can hog the bandwidth of your own WiFi.
PRICE
You might be more alarmed by the price of the craft beers and quality wine downstairs at Hyde & Son than the price of the studio rooms. In the low season rooms are available from £79, rising up to and beyond £200 in high season. I've never paid more than £97 each time I've visited.
Eden Locke pitches itself as a calm refuge in the heart of Edinburgh's New Town. I would have to agree. Grab yourself a cup of tea after exploring this wonderful city, plonk yourself down in from of the TV, and then retire next door to the comfy bed to get some zzzz's.
Sounds like a good stay, am I right? 🙂
———————————————————————–
Reviewed on by

Simon Heyes
http://www.lockeliving.com/eden-locke/
Eden Locke offers studio-based hotel rooms in the centre of Edinburgh.
Eden Locke offers a calm refuge in the heart of Edinburgh's New Town. Every studio apartment has been meticulously designed to include everything you want – regardless of your length of stay.
Rating:

5