Updated – November 2021. Covid-19 has had a massive impact on the Winter travel industry and decimated many ski holiday providers. This post now contains fresh, updated information on chalet bookings.
In my opinion, a catered ski chalet represents the best value for money when booking a week long ski holiday to the Alps.
I've booked our ski chalet holiday for the last 12 years, so thought it was about time I wrote some tips and produced a little guide for you to find and book the best chalets, and the best deals.
This post is designed for those booking from the UK, and travelling to France, Switzerland, Austria, Italy, or further afield, the US or Canada. If you're a seasoned veteran when it comes to booking ski chalets, then I hope this post hit all the key points. If you're a newbie to booking ski chalets, then I hope you find this guide useful.
Oh, and put the kettle on, there's quite a bit of information to digest!
I've broken the ski chalet guide into different sections to ensure you have all the information you need.
First up, it's time to work out your priorities, and what you want from your ski holiday.
WORK OUT YOUR BUDGET, DATES AND PRIORITIES
If you're booking on behalf of a group of people, it's important to work out their preferences. For example, do they have a preference on location? Chalet size? Close to the slopes? Close to town? Hot tub? Apres ski scene?
If you're not sure where to start, check out Welove2ski. This is a useful site with loads of information on all the major resorts, including plus and minus points for each.
Your choice of location may also depend on the snow levels of the different resorts. For first timers, have a read of my posts covering the best snow sure locations in France and Austria, where you are pretty much guaranteed snow between December and April.
The biggest and best choice of chalets are in France, so I would recommend starting there, unless you want to ski in Austria, Switzerland or Italy.
Once you have the preference choices, it's then time to decide on the dates you want to go, and your budget. This will help you narrow down your ski chalet search. Typically a catered chalet for a week will range somewhere between £400 and £900 per person, depending on the deals available, and the type of chalet you go for.
Also bear in mind you may have to pay for ski hire (if you're not taking your own), which is usually around £120 for the week, and your lift pass, which varies depending on the ski area, but is usually £200 – £300 for the week. With money for apres ski and souvenirs, a catered chalet ski holiday is generally around the £1000 mark. Check out my post on booking a short break ski holiday for more information.
WHAT YOU GET WHEN YOU PAY FOR A CATERED CHALET HOLIDAY
A catered chalet really is good value. Let's compare it to a night in a nice hotel in London. That might cost you £140 per night, right? Well, given you'll be paying somewhere between £350 and £900 you usually get the following:
Return flights from the airport of your choice
Return transfers from the airport to your ski chalet
Six nights accommodation in a ski chalet, usually in a twin or double room
Breakfast, afternoon tea/coffee & cake, and a three-course meal for 5 nights
White and red wine during dinner
So all in all, it's a pretty good deal.
THE MAIN SKI CHALET HOLIDAY OPERATORS
The table below shows most of the main ski chalet holiday tour operators from the UK. I've split them into two columns – the main block of ski chalet holiday providers, and a selection of luxury ski chalet holiday providers. Those that have an * next to them indicate ones I have used previously to book a catered chalet.
Each of these companies have their own site search function, so feel free to browse through them to get a feel for the different type of chalets and packages that they offer.
There are also operators such as Neilson and Mark Warner, but I've always found these a little more expensive than the main operators, but they are always worth checking out also. I believe Neilson now offer free ski guiding and coaching, which is an added bonus.
Now, I wouldn't expect you to trawl through each of these sites if you didn't have a significant amount of time on your hands, and/or you really like looking at ski chalets.
So, if you want a simple solution for finding a ski holiday, then I would suggest either looking at Iglu Ski, or phone Snowfinders, who I booked through last year. Both trawl through most of the sites above, and can provide you with a shortlist based on your preferences and budgets.
LOOK OUT FOR THE SKI DEALS
Most of the sites listed above have a deals page, which show the best offers by month, by resort, and by chalet type. If you are a group of 2 – 4 people it's often worth taking the risk and waiting until 2 weeks before you are due to leave to see what accommodation is remaining, and grab the best deal. Risky, I know, but it can often save you over £100 per person!
For example, I am writing this post on 8th January 2017, and Skiworld for example have several beds remaining in a few chalets (including the one I stayed in last year) for £279 per person. Bargain!
HOW DO YOU CHOOSE A CHALET?
Many of the ski chalet holiday providers will show you very similar looking chalets, and it can be difficult to make a final choice. It's important to note that each operator has small differences, and you should pick the ones that are most relevant to you. For example:
Skiworld and Ski Total are probably the two biggest European chalet providers in the UK, but Ski Total usually operate Sunday to Sunday, rather than Saturday to Saturday, so if flight days are important, bear this in mind.
Ski Beat and Espirit Ski are known for good childcare, if you are skiing with children
Alpine Elements often do deals that include ski hire and/or a ski lift pass, which saves you a lot of cash. See their All Inclusive page (some are £650 all in!)
THE EMERGENCE OF LUXURY CHALET PROVIDERS
Over the last few years, there are a number of smaller companies that have sprung up, targeting the luxury ski chalet market. Whilst they don't have the volume, these smaller companies have created a market niche, and are mopping up the chalet company awards.
As shown in the right hand column of the table above, these companies often make your ski chalet holiday even more comfortable, with top quality food, hot tubs and other little homely gems.
This year we have booked with Fish&Pips, a company I'd never heard of until last year. Whilst Fish & Pips and the some others in the luxury column don't include flights or transfers within their price, they add other 'above and beyond' touches that make them stand out.
Fish&Pips for instance focus on gastronomic food from award-winning chefs, and shout about how each of their chalets are just metres from the slopes. They also provide a choice of red and white wines during dinner (the main operators offer one type of each), a pool table (!), a chauffeur service around town, an in-chalet ski collection service, and provide free beer (the main operators do not). For these reasons (as well as the outdoor hot tub), we decided to get a chalet of 8 to ourselves, spend a little more and try them out this year (review now live!).
The living area in Chalet Baita (formerly Chalet Braye of Fish &Pips)
YSE Ski also focus on gastronomy, but only operate out of Val d'Isere.
TG Ski focus on the intimacy of being a small operator, and have an incredible selection of chalets in Morzine and Meribel.
Ali Kats only operate out of Morzine, but have four amazing, luxurious chalets to choose from, including Riverwood Lodge, shown below. They were also shortlisted for Best Chalet Company at the Telegraph's World Snow Awards for the 2nd year running last year.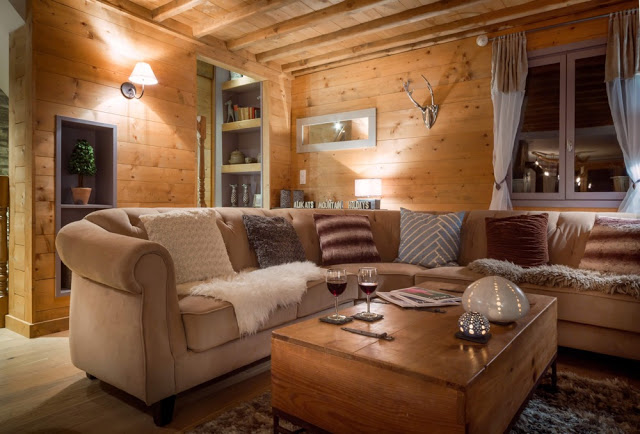 Riverwood Lodge lounge area, Morzine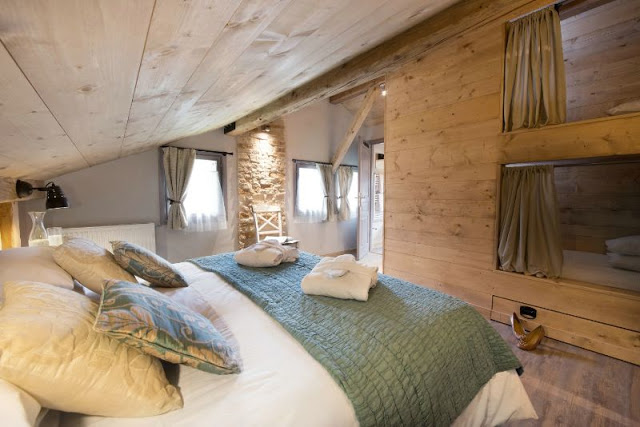 A family room at Riverwood Lodge ski chalet
Morgan Jupe are another award-winner, having won Best UK Specialist Tour Operator & Best UK Chalet Company the Telegraph's World Snow Awards. They only operate out of Morzine, and also focus on gastronomic food, luxury chalets and an extensive wine list. The best bit? Their Chalet Des Amis has a balcony that looks out onto the hot tub, which is on the level below, and has a beverage basket, which is used to lower drinks to those in the tub.
If you fancy a little bit of added luxury, and can spend a little more, I would definitely go with one of these guys.
OTHER CONSIDERATIONS
Hopefully by now, you'll have managed to get a good feel for the type of chalet and location available to you, and hopefully you'll have a few shortlisted.
There are one or two final considerations which may sway your choice though, so hold off booking until you've read them.
Currency Conversion – the strength of the pound plays a big part in the price of a catered chalet ski holiday. Sometimes the Euro is weak, which makes France, Italy and Austria appealing. Sometimes the Euro is up against the pound, which often means you might want to look at other currencies, such as the Swiss Franc. I skied in Verbier in 2010 for that very reason. Also don't rule out the USA and Canada. If the pound is strong against the dollar, the best value for money could be found across the pond.
Transfer Times – whilst snow sure ski resorts are high up and have plenty of the white stuff, they also take longer to reach. Tignes and Val Thorens for example take 3 – 3.5 hours to reach from the airport. As such, if you don't like sitting on a coach, those resorts probably aren't for you. Chamonix (65 mins from Geneva) or Les Deux Alpes (1 hour 45 mins from Grenoble) may be better options. Check out this useful list of French resort transfer times for reference.
GET PACKING!
That's it! You should now have all the information you need to find a really good deal, and find the perfect chalet for you and your friends and family.
Next thing is to start packing, and if you're not sure where to start, check out my ski packing list post (for the boys) or fellow blogger The Travel Hack's packing list post (for the girls).
Also check out my YouTube vlog on how to keep warm when skiing!
Enjoy your holiday, and feel free to comment below if you would like to add any other tips 🙂
https://adventurebagging.co.uk/wp-content/uploads/2017/01/catered-ski-chalet-booking-guide-1.jpg
666
1000
Simon Heyes
https://adventurebagging.co.uk/wp-content/uploads/2018/10/Adventure-Bagging-Travel-Blog-WP.svg
Simon Heyes
2017-01-08 19:01:00
2021-11-11 11:46:20
The Ultimate Ski Chalet Holiday Booking Guide