Remember how excited I got about my adventureproof Sungod sunglasses (see the video)?
Well, the customisable kings at SunGod have done it again – they have created great value, top performing ski goggles, and they are just as customisable as the sunglasses.
Known as the Sungod Revolts, these ski goggles are only rivalled by the Oakley Flight Decks. Whilst sunglasses are more about fashion and fit, a great pair of ski goggles need to tick many more boxes.
From a practical point of view you want ski goggles that fit well,  are comfortable, don't fog up, and – if budget allows – have interchangeable lenses to suit the conditions on the piste.
And let's not forget the fashion element – the ski goggles need to look good.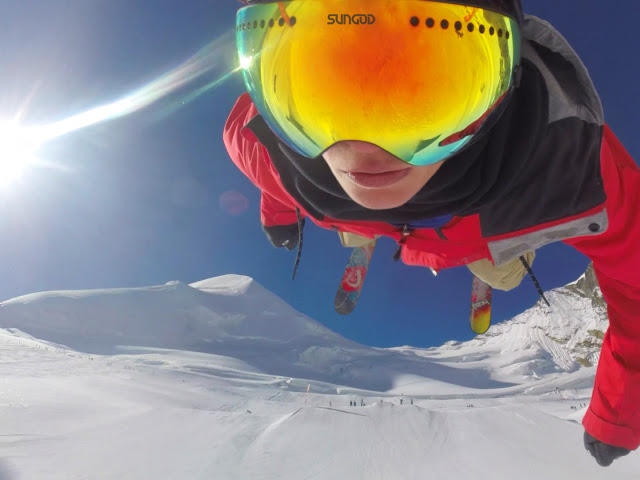 No, this is not me.
The SunGod Revolt goggles are the result of the company founders being "frustrated with over-priced, under-performing goggles", and I've been through quite a few pairs that match that description. Far too often people spend cheaply, and don't get the performance to match.
SUNGOD REVOLTS SKI GOGGLES – THE BEST BITS
Let's run through the list of features that make these not only great value, but also high performers.
First off, Sungod are the kings of customisation. You can choose from four different frame colours, six different tints of interchangeable 4KO Snow lenses and ten different strap designs.
Just like the sunglasses, you could be the only one to create your own combination of ski goggle. Amazing.
I tried them out on my recent ski trip to Meribel, and the Sungod Revolts performed brilliantly.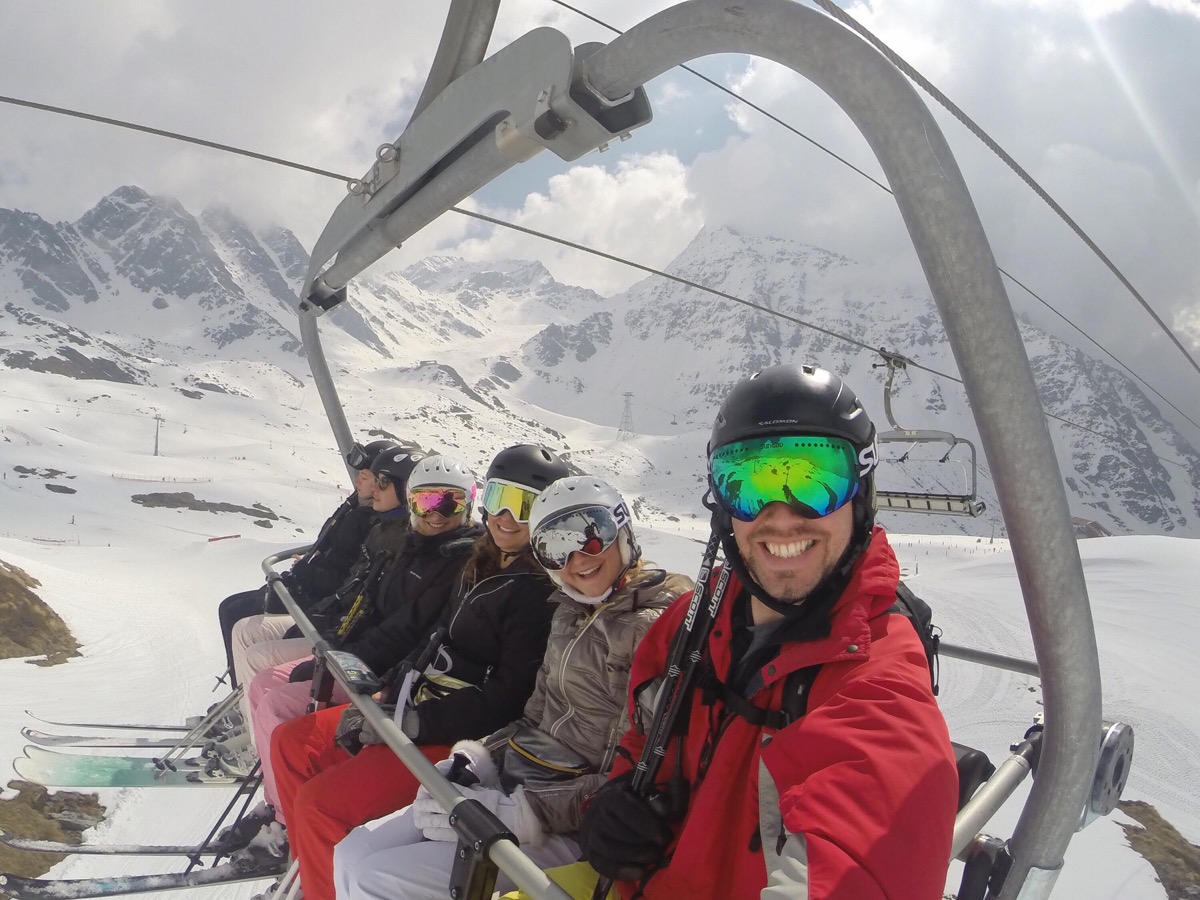 Here's the rest of what you need to know about the Sungod Revolts ski goggles:
Dual layer lenses – the spherical lenses are made from impact-resistant polycarbonate and feature a dual-layer so you get great all round vision. Just like their sunglasses, there is a triple-layer scratch-resistant coating to ensure they remain in the best condition. The 4KO Snow lenses enhance contrast and optimise clarity in all conditions.
Flexible frames – SunGod ski goggle frames are lightweight, durable and made from super-flexible TPU that almost moulds to your face and provides a great fit.
Helmet compatible – it goes without saying the SunGod Revolts fit with all modern helmets from most major brands.
Air vents – the Revolt goggle vent system offers good airflow through three foam-lined upper vents and 16 circular lens vents, ensuring you don't steam up.
SUNGOD SKI GOGGLES VS THE REST
Oakley have always led the way when it comes to ski goggles and lenses, but Sungod are going to give them a serious run for their money this season.
Let's say you have a budget of £150 to spend on ski goggles. This is how they stack up:
OAKLEY – 1 pair of Flight Decks (£150), no additional lenses, no extra cash to spend at the apres ski bar
SALOMON – 1 part of XT-One goggles (£140), no additional lenses, £10 to spend at the apres ski bar
SUNGOD – 1 pair of Revolts (£95), 1 extra lense (£45), £10 to spend at the apres ski bar (PS. there's free delivery for orders over £100)
I know where my money is…
The Sungod Revolts are available for £95.00 on the Sungod website but follow me on Facebook for occasional discount codes.
*** Update – check out the new Vanguards ski goggles!***
//////////////////////////////////////
Disclaimer – Adventure Bagging is an affiliate partner of SunGod. Any sunglasses or ski goggles purchased through the links in the post make me a little bit of commission, which goes back into my web hosting 🙂
Summary
Author Rating
Brand Name
Product Name
Price
Product Availability
https://adventurebagging.co.uk/wp-content/uploads/2016/10/sungod-revolts-ski-goggles-review.jpg
1080
1440
Simon Heyes
https://adventurebagging.co.uk/wp-content/uploads/2018/10/Adventure-Bagging-Travel-Blog-WP.svg
Simon Heyes
2016-10-27 22:47:00
2020-01-07 17:18:54
Sungod Revolts Ski Goggles Review