Have you ever booked a weekend away in the UK, not really knowing what to expect, but coming away with a great sense of relaxation and enjoyment? Well, that is exactly what happened to me when I stayed at Swan House B&B, in Hastings old town a couple of weeks ago.
Like a lot of British B&Bs, the current website really doesn't do Swan House justice. The place is stunning. It's much more than a B&B. It's like a home away from home. I hope the photos below go someway to showing you just how amazing the place is.
Let's start from the beginning.
I was contacted by Dorset Cereals, who are currently running a bed and breakfast awards that showcase the best staycation venues Britain has to offer. Take a look at their website and you'll see the B&Bs they list are the cream of the crop. The creme de la creme of UK B&B accommodation.
I chose Swan House B&B in Hastings, partly because they came across as incredibly friendly and approachable, and partly because East Sussex is a part of the country I've never really explored.
Now, as an added twist to this staycation weekend, it also provided me with the window of opportunity I had been craving to propose to my girlfriend.
This was not your average weekend away. Oh no.
BIRLING GAP & THE EAST SUSSEX COAST
The story begins at Birling Gap, a stretch of the South coast close to the Seven Sisters chalk cliffs, and one of the longest stretches of undeveloped coastline on the south coast.
Hike 10 minutes uphill from the National Trust car park and you reach Belle Toute lighthouse (a B&B in itself). This was the stunning location we got engaged 🙂
The temperature was hitting the high 20's by the time we started our journey towards Hastings (bear in mind this is unheard of in late September in the UK!)
SWAN HOUSE B&B
We drove to the old town section of Hastings, dropped off the car and then headed to Swan House.
From the outside, the building smacks of elegant charm. My other half is an interior designer, and even she was impressed with the relaxed style of Swan House as soon a we walked through the door.
Cool, calm greys are met with deep double sofas sat in front of a hub open fireplace, and the walls are littered with awards, not least a Silver VisitEngland certificate pronouncing Swan House as the second best B&B in the UK for 2015. They even have an honesty bar filled with beers, wines and spirits which all guests can help themselves to. Very impressive stuff.
At this point, we were newly engaged, so when we opened the door to our huge bedroom we couldn't have been more pleased to see a bottle of Prosecco chilling on ice in the corner. They didn't even know we were engaged at this point, so that was a huge thumbs up!
We were staying in the spacious Renaissance room a huge space, full of character and has a private patio roof terrace, overlooking the small garden courtyard. One of the walls is hand-painted by a local artist and it also has its own sitting area with a sofa and coffee table. Top marks so far!
Then comes the food.
Fresh, tasty, varied breakfasts with seasonal fruit (figs in our case), as well as fresh coffee, tea and fruit juices. If these pictures make you drool, I don't apologise.
As good as the accommodation and food is, small B&B's rely on their friendly, family-esque feel in order to make them really unique, and this is where I have to take my hat off to Brendan and Harriet, who looked after us superbly (both before and after they found out we were engaged!).
The cosy garden courtyard at Swan House bed and breakfast, Hastings
HASTINGS OLD TOWN
Just as Swan House was built in the 1490's Renaissance period – hence the Renaissance room name – so Hastings old town is undergoing a renaissance of it's own. Cafes, independent restaurants and boutique shops are cropping up, and with Hasting pier re-opening earlier this year, there is a real sense that the town is beginning to thrive once more.
The old town boasts the largest beach launched fishing fleet in Europe, with the shore littered with fresh fish shacks, selling their catch after a hard day on the water.
A small narrow gauge railway connects the end of the fish shacks to the East Hill cliff funicular – a Victorian train coach that provides access to Hastings Country Park which overlooks the Old Town and Rock-a-Nore.
Further a long the shore, and just behind Swan House you can find traffic-free George Street, which is full of continental-style cafés, art shops and bookshops. When taking a stroll down the narrow street in the sunshine, or sat outside sipping a latte, you could be in any European city.
The road in front of Swan House leads up some narrow steps up to Castle Hill and the ruins of Hastings Castle – perfect for a birds eye view over the old town.
HASTINGS PIER
One of the most focal points of the town is Hastings pier. It opened in 1872, enjoyed its heyday in the 1930's, but gradually fell into decline. It received major storm damage in 1990 and never fully recovered, and finally closed to the public in 2008. In 2010 a fire ripped through the entire pier, but – remarkably – the sub-structure was salvageable. A charity was set up to raise funds to rebuild the pier, and it re-opened earlier this year.
The views from the pier – on a sunny Sunday like we had – are amazing.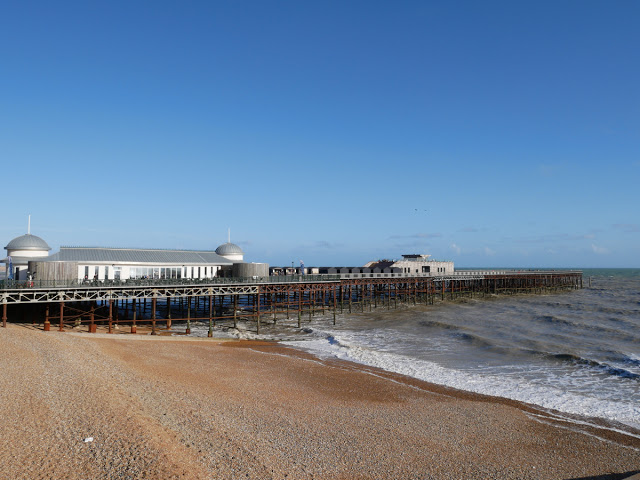 Hasting pier basking in the September sun
PLAN YOUR OWN STAYCATION
2016 seems to have been the year of the Staycation for me! I've visited Bath, Croyde, Cornwall, the Cotswolds and of course Hastings. Maybe Brexit is having a subliminal effect on my holiday location choices!
In fact the falling pound since the Brexit vote has made holidays more expensive for us Brits going abroad and cheaper for foreign tourists coming here – giving UK tourism a double boost.
Want to take you're own staycation? Check out the Dorset Cereals B&B awards website for inspiration, and look out for the winners on their Twitter and Instagram.
Enjoy!
Full vlog now live – watch below! 🙂
Disclaimer – my Swan House B&B visit was made possible through a collaboration with Dorset Cereals. Whilst my stay was free, all the opinions above are my own.
https://adventurebagging.co.uk/wp-content/uploads/2016/10/swan-house-bed-breakfast-hastings-dining-room.jpg
900
1200
Simon Heyes
https://adventurebagging.co.uk/wp-content/uploads/2018/10/Adventure-Bagging-Travel-Blog-WP.svg
Simon Heyes
2016-10-08 12:28:00
2018-05-24 12:20:08
An Idyllic Staycation At Swan House B&B In Hastings With Dorset Cereals