Whilst most British travellers flock to the South East of Spain for a spot of sunshine, it is well worth checking out the Northern province of the Basque Country.
Renowned for its fierce independence, great surf, architecture, incredible vineyards ('bodegas') and a gastronomic scene to rival anywhere in the world, it's no wonder many people are starting to sit up and take notice of what the Basque Country has to offer.
I visited for three days at the end of October, so thought I'd put together a 'must-do' list of things to experience in Bilbao, San Sebastian and further South in the wonderfully picturesque Rioja region. So, without further adieu…
1. VISIT THE GUGGENHEIM MUSEUM, BILBAO
Bilbao struggled through the industrial revolution, but it was the bold move to build the Guggenheim museum that put a stake in the ground to mark a new chapter in Bilbao's history. Since 1997, the city has flourished, with the Guggenheim one of the central tourist attractions in this compact, awesome city.
2. GO TO AN ATHLETIC BILBAO LA LIGA GAME
Athletic Bilbao is an incredibly unique team in football terms. They are one of the only teams in the whole of Europe that only have players from the local region. It's a local club for a big city, in an even bigger league. The San Mames stadium was inaugerated in 2013 and holds over 53,000, of which around 50% are season ticket holders, which creates a pretty special atmosphere. Grab a ticket for around 30 euros, then head down to Poza Lizentziatuaren Kalea for a pre-match kalimotxo (see below)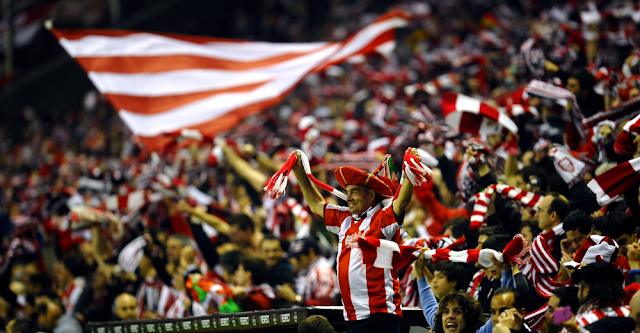 Photo source: abasquejournal.com
3. TAKE A CYCLING TOUR OF BILBAO
You can walk across Bilbao in around 35 minutes….but only if you go in a straight line. There is so much of this city to discover, so it's well worth taking another mode of transport to get around. Bilbao is brilliantly designed for bicycles, so it's no wonder Aitor and the team at Tourne Bilbao are doing so well with personalised, guided bike tours.
4. DRINK A KALIMOTXO
In times of economic struggle, the people of Bilbao didn't want to waste any food and drink. One ingenious idea was to reuse old red wine. When the best reds of the Basque Country were past their drinking date, someone decided to take a glass of red wine, add some Coca-Cola, call it a kalimotxo (pronounced kali-mot-cho) and drink it. A kalimotxo is now practically a local delicacy. It's also quite nice!
5. GO SEA KAYAKING
Much of the Basque Country coast is primed for sea-based activities. In Urdaibai, which acts as a natural green belt between Bilbao and San Sebastian, it is possible to kayak close to the world famous Mundaka wave site. Urdaibai is a Biosphere Reserve and an area dedicated to conservation, so you can also bird-watch, and check out some of the local hiking trails too.
6. EAT LOTS OF PINTXOS!
This really should have been number one on the list, as this is what the Basque Country is famous for. Pintxos (meaning 'spike') are small, tapas style dishes of meat, fish, vegetables and cheese which 99% of the local people snack on morning, noon and night. You simply CANNOT go to the Basque Country without eating pintxos. My favourite? The 'Gilda' pintxo, made from green olives, anchovy fillet and spicy peppers. Yum!
7. LEARN SOME BASQUE LANGUAGE
Whilst everyone in the Basque Country speaks Spanish (obvs), a lot of people speak Basque in and around Bilbao and San Sebastian. Even a quick 'hello' or 'thank you' in Basque language brings out a huge beaming smile on the faces of the locals, so a little effort goes a long way. History shows the Basque language is one of the oldest on record, so it's no wonder the Basque Country are so proud and independent. Here's a few phrases to get you started:
Chin Chin / Topa – Cheers (yes, they say chin chin. How very middle England!)
Kaixo (kai-cho) – Hello
Eskerrik Asko – Thank you
Mesevez – Please
8. GO OUT FOR A MICHELIN-STAR MEAL
Bilbao has five Michelin-starred restaurants (I tried Etxanobe) and San Sebastian has no less than 16 Michelin stars. Yes, SIXTEEN. In fact San Sebastian is one of the top two cities in the world to hold the highest number of Michelin stars per square metre (beaten only by Kyoto, Japan). Three restaurants in San Sebastian hold 3 Michelin-stars. The choice is yours!
9. EAT SOME KOKOTXA
The kokotxchas is basically the throat of a hake fish, and it is the ultimate delicacy in Northern Basque Country. So much so, there is an annual kokotxas cooking competition, which is celebrated more than any match of the local football teams.
10. GO SURFING
The Northern Basque Country coastline is awash with great surfing sites, not least Mundaka and La Zurriola. If nothing else, head to San Sebastian and surf an La Concha beach. It is practically in the middle of town, and it's quite the experience walking past people dressed in coats and jeans in the middle of a city when you're wearing nothing but a wetsuit and a smile. As I learnt, if you're a beginner / intermediate surfer, don't go surfing at high tide. I did my best, but the power of the surf SNAPPED my surfboard in half as I swam back out to the line up. That cut my session abruptly short!
11. WANDER ROUND THE OLD TOWN STREETS OF BILBAO AND SAN SEBASTIAN
Both Bilbao and San Sebastian started out as modest sized cities. Over time, the cities have expanded – Bilbao to the West and San Sebastian in…well…more of a line I guess. Whilst I found the old town streets of Bilbao a little eery (it was dark and raining), the old town streets of San Sebastian had an energetic, vibrant feel, and I wish I'd had more time to explore the bars and shops between the old market and the harbour.
12. VISIT THE RIOJA REGION & BODEGAS
If, like me, you like a glass or two of full bodied red wine, you'll probably have a bottle or two of Rioja tucked away at home. If you visit the Basque Country, you have to visit the Rioja region, and find some of your favourite vineyards. It's about a 2 hour drive from Bilbao, but well worth it for the mountain scenery and endless colourful carpet of rolling grape vines.
12. SEGWAY THROUGH A VINEYWARD
Vineyards can be pretty expansive, so walking round them can eat up valuable time and may even take up far too much energy. Energy you should be using to taste some glorious, fruity Rioja wines! Thanks to Segway La Rioja, you can save that energy by taking a Segway around the Eguren Ugarte vineyard. This is great fun, even for a Segway novice like me, and it's completely safe. You can wine taste on foot, on horseback, on a coach, on a bike, in a car…but how often can you say you've done a wine tour on a Segway? Hop on and whistle past the Tempranillo grape vines. Go on, you know it makes sense.
13. WATCH THE WORLD GO BY IN VITORIA
Recently included in the Telegraphs list of European cities you've never thought of visiting, but really should, Vitoria is the political capital of the Basque Country, and has plenty of fantastic architecture to look at, and has a laid back atmosphere, perfect for sitting in one of the central plazas and enjoying some pintxos.
14. VISIT THE MEDIEVAL TOWN OF LAGUARDIA
This beautiful, small walled town was first developed in the 10th century and has been brilliantly preserved. With a church at either end of the town, most of the cellars of each house were connected by underground tunnels, allowing the locals to flee in safety if enemies arrived. Set on top of a hillside overlooking Rioja Alavesa, Laguardia provides some stunning views of the Rioja bodegas below and mountains in the distance. Wander around the streets and help yourself to a glass of local wine or a pintxo or two. A great way to spend an afternoon 🙂
15. WATCH THE SUNSET OVER LA CONCHA BEACH
There is no better way to cap off a great trip to the Basque Country than to watch the sunset over La Concha beach in San Sebastian. Depending on the time of year, the sun will dip into the sea or behind the mountains and Igueldo. Grab a glass of wine, a good seat and give a toast (or chin chin) to the Basque Country.
This trip was in conjunction with Basque Country tourism. If you've been to the Basque Country and think I've missed anything off this list, please let me know in the comments below!
WHERE TO STAY IN BILBAO – Basque Boutique Hotel (from £60 per night) – http://www.booking.com/hotel/es/basque-boutique.html
WHERE TO STAY IN SAN SEBASTIAN – Hotel Arrizul Center (from £62 per night) – http://www.booking.com/hotel/es/arrizul.en-gb.html
https://adventurebagging.co.uk/wp-content/uploads/2015/11/basque-country-experiences-adventures.png
637
1051
Simon Heyes
https://adventurebagging.co.uk/wp-content/uploads/2018/10/Adventure-Bagging-Travel-Blog-WP.svg
Simon Heyes
2015-11-08 14:40:00
2018-11-06 14:49:26
15 Things You Need To Experience In The Basque Country