I knew very little about Papua New Guinea and especially West New Britain before I arrived on the island. Sat next to my dad as our plane banked right and we began our decent into Hoskins, the local airport for Kimbe Bay, I looked down and saw endless jungle, dissected by a short strip of tarmac and a wind sock.
Landing into Hoskins was like landing in a jungle on the edge of the world. Endless rows of plantations and lush green forest, brought to an abrupt end by the coral coloured sea.
We disembarked and walked to a metal shed (the arrivals lounge) where our adventure at Walindi Plantation Resort would begin.
Driving from the airport to the resort, I couldn't help but drum up memories of my time in Zimbabwe. Roads with giant pot holes, people walking for miles just to get water, and smiles planted firmly across the faces of local villagers.
Arriving at Walindi Plantation Resort
MILES AND MILES OF PLANTATIONS
On our second day at Walindi, we drove through miles and miles of palm oil plantation. That is the main business in West New Britain, and provides work for most of the people in the Kimbe Bay area. The plantations themselves are now mixed use in Walindi: In between every two rows of palms, there is a gap for sunlight, that allows the grass to grow and beef cattle to graze.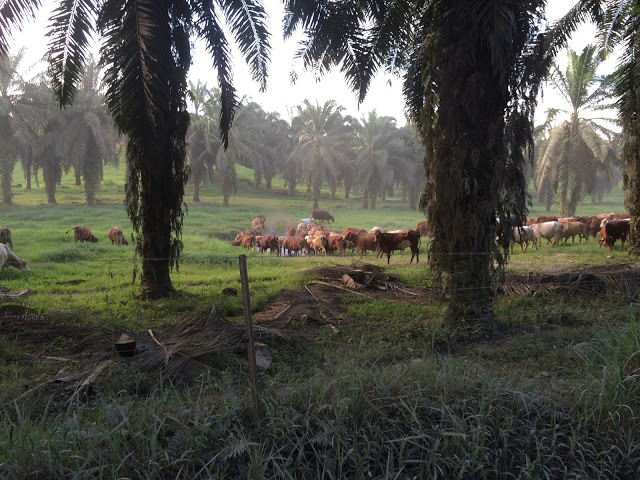 Workers at the plantations get paid every two weeks, and the method for how they get paid is a great story in itself.
In each of the villages that surround the plantation, there is a small concrete building with a giant funnel on the top. Every two weeks, a helicopter is loaded with small bags of money, and these bags are grouped by village and dropped by helicopter in the funnels. A man inside then divvies up the money and the workers get paid. How cool is that?!
SURROUNDED BY VOLCANOES
Looming behind the resort and the plantations, are several active volcanoes. These volcanos provide a fantastic backdrop to what is already an incredibly scenic province.
The lush green road to Walindi
The last eruption – by the Garbuna volcano – happened in 2005, where a small amount of ash and lava spilled over the top.
The ever present ash turns most of the rivers a milky grey colour, and that in itself provides a great opportunity for local tours. We headed deep into the plantation, and then deep into the jungle to find a spot for a 'hot river experience'.
The 'milky' hot river can be found deep in the forest near Walindi
Stepping into the clear water, the temperature was around 36 degrees, much like a nice hot bath. Given its location in the hot, humid jungle tropics, a cold river experience would have been greatly welcome instead 🙂
SEA LIFE GALORE
Walindi and Kimbe Bay has some of the best diving spots in the world. It attracts marine biologists, divers, photographers and film crews from all around the world, to get a glimpse of life under the water. From dolphins and sharks to tropical fish and plan wrecks, there is something for everyone.
Even when we headed out to Restorf Island for a snorkel, we were greeted at the bow of the boat by two dolphins, riding the waves as we cruised North.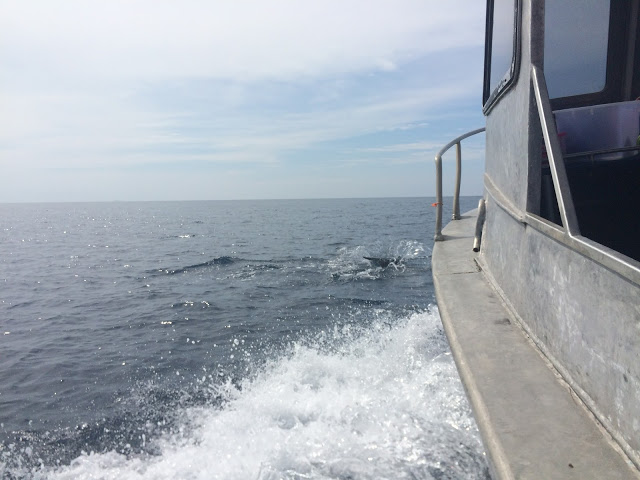 Walindi Plantation Resort has a liveaboard boat the carries 16 people for multi-day trips out at sea, with experienced staff on hand for day trips to various dive locations around the bay.
If you're a serious diver, Walindi and Kimbe Bay should definitely be on your bucket list.
My visit to Kimbe Bay was made possible through my Blogger Ambassador trip with Papua New Guinea Tourism UK. Find out more about the adventure here.
https://adventurebagging.co.uk/wp-content/uploads/2015/06/walindi-volcano-plantation-papua-new-guinea.jpg
1200
1600
Simon Heyes
https://adventurebagging.co.uk/wp-content/uploads/2018/10/Adventure-Bagging-Travel-Blog-WP.svg
Simon Heyes
2015-06-03 10:23:00
2020-04-29 11:51:13
Kimbe Bay, Papua New Guinea: Plantations, Volcanoes And Incredible Sea Life