I am a big fan of the countryside. Always have been. I was driving around on tractors in my dad's field from the age of 9. We grew and sold plants and vegetables at our local market. We used to keep chickens at the bottom of our garden, and the smell of wax jackets was commonplace in our house. I got one minor on my driving test, mainly because I learned to drive in a Land Rover Defender 110.
As I spread my wings and discovered the city side of life, the country always called me back. Whether it was going shooting with my dad, beating on the moors with our family gun dogs, or simply hiking the hills – country life is in my blood.
Every so often there is a event that brings together like-minded country folk. The biggest country fair of them all – the Country and Landowners Association (CLA) Fair – takes places once a year, and celebrates the very best of the Great British countryside.
This year, the CLA Fair takes place next weekend (18th – 20th July) at Blenheim Palace, a handsome masterpiece of 18th Century Baroque architecture. This will be my first game fair since 2011, so I can't wait to look around!
The stunning Blenheim Palace in Oxfordshire
There are working dog shows, fishing shows, falconry displays, horse showcases, field archery, countless shops to grab yourself a bargain and plenty of real-ale bars. For me, it's countryside porn.
Earlier this year I attended Badminton Horse Trials. I don't have any direct affiliation with horses, but it was a good warm up for the CLA Fair. Barbour jackets, flat caps, tweed were worn, as well as getting lots of fun selfies with working dogs…including our lovely ginger lady friend, Sky.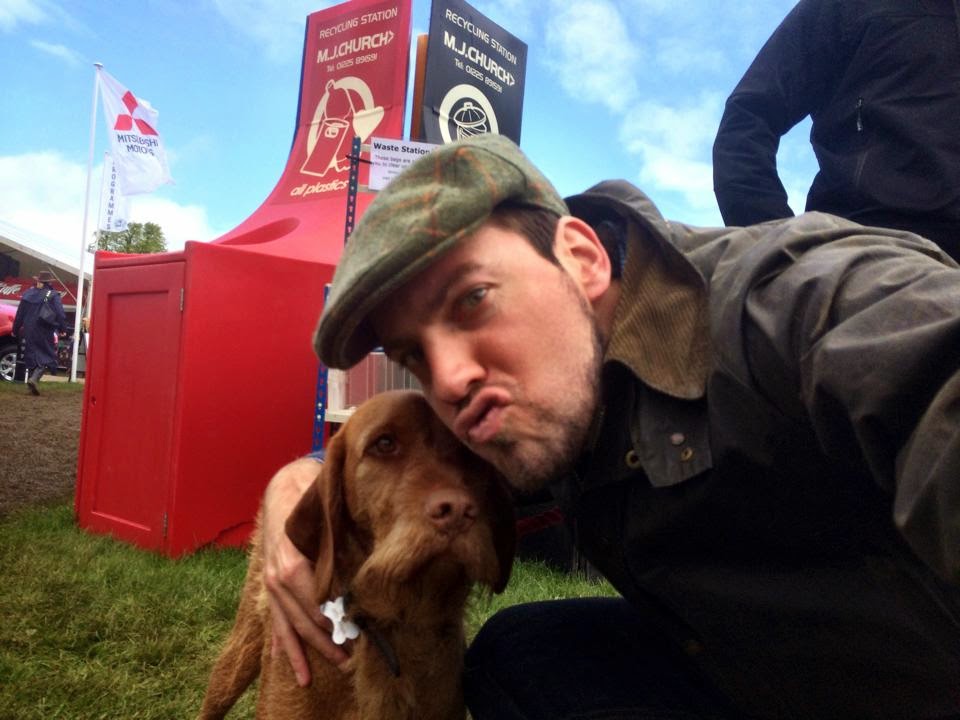 Meet Sky (a.k.a Betty), a Hungarian wire-haired Vizsla, complete with ginger lady beard
Attending the CLA game fair wouldn't be complete without wearing country clothing, so to celebrate the best of the British country clothing I've teamed up with Country Attire to bring you an incredible giveaway!
You could grab yourself a Barbour jacket for him AND a Barbour jacket for her from the Country Attire autumn/winter collection, worth over £230!
Get your cameras ready. In order to win the jackets, we want to see your best country outfit. It could be a Barbour jacket and Hunter wellies, or it could be mustard cords and a flat cap. Like mine above, it could also include an incredibly good-looking animal with a ginger lady beard. It's up to you! Simply post your entry on Twitter using the hashtag #CABarbourGiveaway and include my Twitter name (@MrHeyes), or post your entry to the Country Attire Facebook page, using the #CABarbourGiveaway hashtag. Once you've submitted your entry, leave a comment below this post saying why it's your favourite outfit, and include your name and your jacket size.
The winner will be chosen at random by me next Wednesday, the 23rd July. I will update this post with the winners' name, and contact the winner either by Twitter or Facebook. Good luck!
If you love the jackets so much you want to have them now (and why wouldn't you!), you can find the ladies jacket here, and the men's jacket here.
If you're attending the CLA Fair, have a great time. Maybe see you at the bar for an ale or two!
Keep an eye on the CLA Fair Instagram and Twitter pages for official updates, and keep an eye on the hashtags to view the entries. I'm looking forward to seeing some awesome country outfits 🙂
UPDATE – please note this competition is now closed.
ENTRIES
Hottest day of the year you say… Nonesense!! #CABarbourGiveaway @MrHeyes pic.twitter.com/DdtD0IUOdI
— James Sheridan (@SheridanDesign) July 18, 2014

@MrHeyes At Cambridge Strawberry Fair #CABarbourGiveaway pic.twitter.com/dB5yIUPRaV
— Dee (@Perk1nz) July 23, 2014

#CABarbourGiveaway @MrHeyes my dog loves this outfit as he know's he's out for the long haul! pic.twitter.com/7QmuZH2B8e
— Daniel Vernon (@grumpydanvern) July 22, 2014

@MrHeyes @CountryAttire warm, waterproof and involving some tweed! 🙂 #CABarbourGiveaway pic.twitter.com/uYX5YW32mC
— Happyhooe (@happyhooe) July 23, 2014

Surely there's no game fair without a bit of tweed,dont u think @MrHeyes?And @HunterBoots to boot #CABarbourGiveaway pic.twitter.com/f1yZRRAVv7
— Lucy O'Neill (@juicylucyo) July 19, 2014

@MrHeyes @CountryAttire It's important to stay warm in these brisk times. Anyone fancy a drop?? #CABarbourGiveaway pic.twitter.com/rCvuGtcaum
— Chris Bryant (@ChristophBryant) July 23, 2014

The family sheltering from the British Summer under a hanging basket in borrowed coats! #CABarbourGiveaway @MrHeyes pic.twitter.com/YAWuvvxfya
— Andrew Tucker (@therealkingtuck) July 18, 2014

@MrHeyes love a bit of camo in the country! #CABarbourGiveaway pic.twitter.com/Hs46QyOVtK
— BillyBones (@BillyTheBones) July 22, 2014
Thanks to everyone who tweeted and sent in a photo of their best country outfit. We had some fantastic pics, with guns, dogs, tweed and even a Land Rover. Here are the entries below:
After an afternoon of deliberation, I finally chose a winner….congratulations to Chris Bryant! Chris's picture embodied everything the British countryside is about – tweed, flat caps, wax jacket, a Land Rover Defender and whisky in a hip flask.
Chris received his Barbour jackets, and very kindly gave the female jacket to his mum. Don't they look great!
When you win two @Barbour jackets, you give one to your mother. Obvs. Thanks again @CountryAttire @MrHeyes Smashing. pic.twitter.com/cg0ZAKmiqr

— Chris Bryant (@ChristophBryant) August 13, 2014
https://adventurebagging.co.uk/wp-content/uploads/2018/10/Adventure-Bagging-Travel-Blog-WP.svg
0
0
Simon Heyes
https://adventurebagging.co.uk/wp-content/uploads/2018/10/Adventure-Bagging-Travel-Blog-WP.svg
Simon Heyes
2014-07-15 14:15:00
2018-05-18 09:53:03
CLA Game Fair - His And Hers Barbour Jacket Giveaway