It's a phrase that sends shudders down most peoples spines.
Stag do
. It's a taboo subject for females. Even the male participants in the traditional bachelor-sign-off event get nervous. Stag parties are a celebration of your last nights as a single, uncommitted man. But ever since the release of The Hangover, stag dos have taken on a whole new aura.
Stag dos – not for the faint hearted
This weekend, I am participating in my first stag party of the year, for an old school friend. You know the rule – "what goes on tour, stays on tour", so whilst there won't be a follow up post about the activities and stories, be safe in the knowledge that another post of any kind means I survived.
Stag dos are usually one or two nights, with plenty of boozing and a few 'activities' to keep the troops entertained. Paintball, go-karting, watching a sporting event and quad biking are events I've taken part in stag dos over the last few years, and then there is, of course, the various night time 'activities' and outfits which are essential stag night inclusions. This presents much opportunity for photo taking, and capturing rib tickling moments. Safe to say, my Camera+ stream will not be filled with such images.
So before I depart for my 48 hours of beer-swilling, testosterone-fulled fun I thought I'd round up 10 of the funniest stag party images I could find.
This image first did the rounds in 2007. The jolly wee fella was handcuffed to the stag for the whole weekend
Borat has a lot to answer for. Mankinis are standard attire on stag parties
Body painting, hair removal and making the stag look silly – ingredients of most stag parties
A passed out stag. A very patient stag party.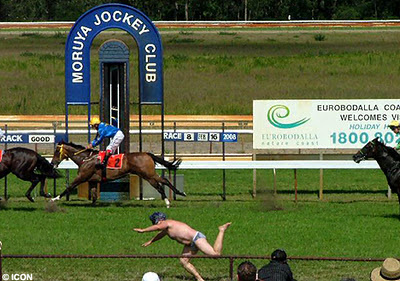 There were long odds on this runner
Stag. Passed out. Apply colour.
Dressing up the stag as a woman. Essential. Fancy dress for everyone else. Essential.
No comment.
Stag shooting. In a dress.
Wonder Woman had let herself go since retiring.
Good luck to all those participating in stag parties this year. May the best man's speech be filled with hilarious, censored versions of stag do activities.
Feel free to share any funny stag photos you come across! But remember the rule, it can't be from a party you participated in 🙂
https://adventurebagging.co.uk/wp-content/uploads/2018/10/Adventure-Bagging-Travel-Blog-WP.svg
0
0
Simon Heyes
https://adventurebagging.co.uk/wp-content/uploads/2018/10/Adventure-Bagging-Travel-Blog-WP.svg
Simon Heyes
2012-02-03 12:53:00
2018-05-18 11:38:31
10 of the Funniest Stag Do Pictures (NSFW)