The lush, steep mountain sides of Hawaii. The surf. The hula skirts. Hawaii 5-0.
There are plenty of associations we make with Hawaii.
For me, the TV series LOST really put Hawaii on the map. Filmed on location in Hawaii between 2003 and 2010, LOST gave me a glimpse into the beaches, countryside, forest and incredible scenery Hawaii has to offer.
Let me run through my ideal two-week holiday itinerary to this tropical wonderland, including hiking adventures, rafting, tubing, beach (and cocktail) time, surfing and that all important down time.
INTRODUCING HAWAII
Hawaii sits in the middle of the Pacific Ocean, and is the youngest of all 50 US States (yep, Hawaii is part of America for those that didn't know).
It is also made up of over 100 different islands, although only 7 are inhabited. Let me introduce you to the five main islands you are most likely to visit.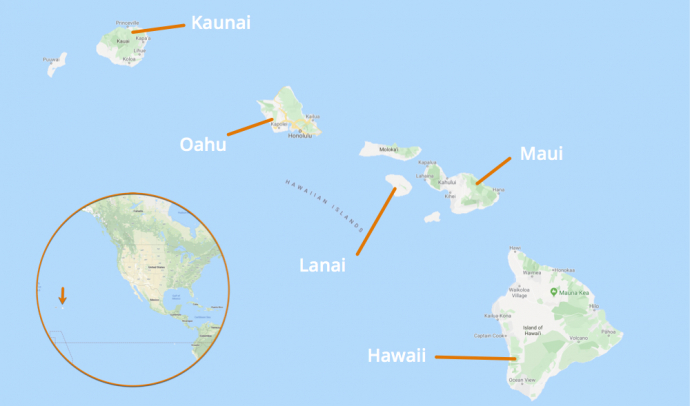 The main and largest island is called Hawaii (also known as the Big Island), and is home to a population of 150,000 and three active volcanoes, including Kilauea, one of the most active in the world.
The second largest is Maui, known for its lowland coasts, mountain ranges that are separated by valleys, beaches and natural environment. Maui is also the birthplace of Maui Jim sunglasses, which you may have heard of in the UK.
Then we have Oahu, probably the most well known and most visited island in Hawaii. It's capital, Honolulu is the centre of Hawaii's government and economy, and as well as its beaches and shops, Oahu's top attractions include Pearl Harbor, the North Shore, and Waikiki.
Next up, and my favourite, we have Kauai. Known as the Garden Isle for its undeveloped land and forests, this is Hawaii's outdoor adventure playground. Home to the Waimea Canyon and Na Pali Coast state parks, Kauai's mountain ranges are jagged and well eroded, and the island is known for its steep cliffs and rugged coastline.
Last but not least, there is Lanai. Known as the Pineapple Island as it was once covered by a pineapple plantation, Lanai is mostly undeveloped, and many of its roads are unpaved, but is popular for hiking, diving and horse riding. There two resort hotels and two famous golf courses on the island: Cavendish Public Golf Course and the stunning Manele Golf Course.
MY DREAM HOLDAY ITINERARY TO HAWAII
DAYS 1 – 4: OAHU
Hawaii has always been on my bucket list. As has the West coast of the US. And this, fellow travellers, is where my dream holiday itinerary for Hawaii begins.
The first stop for any traveller to Hawaii will be Honolulu. The main port for international flights, you can get to Honolulu airport from the UK, via. the West Coast.
Most UK flights will stop in either Seattle, Los Angeles or San Francisco on their way to Hawaii, so why not grab one or two nights there on your way over?
Get a good deal in the sales and a return flight could costs as little as £600 return from London.
Go Surfing At Waikiki
Now you've landed onto Oahu, it's time to explore. Head to Waikiki and have a go at surfing. Two-mile strip of sparkling white sand is the island's most famous beach, and the water here is calm, making it a great spot for some surf and paddle board lessons.
Not fancy surfing? Then take a stroll along the nearby Waikiki Beach Promenade.
Waikiki faces West, so if you plan it correctly, make sure you are on the beach to witness the gorgeous sunset.
Fly Over Diamond Head In A Helicopter
Diamond Head is a huge crater that sits to the South East of Waikiki, and provides incredible views if you want to hike to the top (give yourself a couple of hours). But if you want a different perspective, why not take a helicopter flight over some of Oahu's most cherished and secluded areas. Take in sights of the coast, city, and forest landscapes, while the warm wind whips your face.
Chill Out Time
Oahu is a busy island, so give yourself a few days chill out time by the pool or by the beach, and help yourself to a few cocktails. Oahu has plenty of nightlife, restaurants and friendly locals, so grab yourself a beer and say Aloha!
Visit Pearl Harbor
Pearl Harbor is another must visit place for a Hawaii holiday itinerary, if only for its historical significance.
The bombing of Pearl Harbor is what ultimately brought the USA into World War II, and its importance in US history makes for interesting learning, even for those who aren't overly excited about war history.
DAYS 5 – 7: KAUAI
It's time to head to the adventure playground on day 5. Grab a morning flight from Honolulu to Kauai with Hawaiian Airlines, and get ready to explore the Garden Isle.
Explore Na Pali
Kauai is known for its famous Na Pali coast, home to some of the tallest sea cliffs in the world, so after settling into your new hotel, why not grab a sunset cruise and dinner, off the coast whilst taking in the views of the cliffs?
If you fancy chilling on the first day, then you can also do a small boat tour which explores sea caves, and you'll even have the option of snorkelling by some of the large reefs, and if you're lucky you might even see some dolphins or sea turtles.
There are also plenty of hiking trails on Kauai, which, as you can see below, are pretty stunning.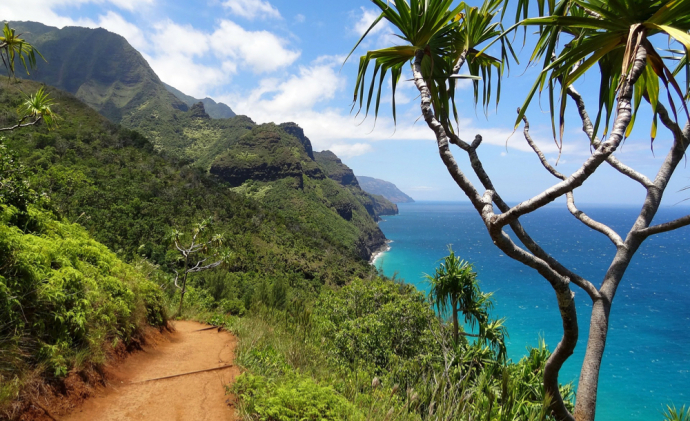 Go Mountain Tubing
Sea cliffs are fun, but how about putting on a helmet, a head torch and floating down a mountain in a tube? Now we're talking.
Kauai Backcountry offer 3-hour tubing activities, where you can float down open canals and through several amazing tunnels engineered and hand-dug around 1870. At the end of your adventure, you are guided to an enchanted picnic area nearby for a delicious lunch and a cool dip in a natural swimming hole. Ideal!
See Waimea Canyon
Known as the Grand Canyon of the Pacific, Waimea Canyon is pretty spectacular, not least because whereas many canyons have more of a desert feel, this canyon is filled with shades of red, brown, and green. Take half a day to give you plenty of time.
DAYS 8 – 9: LANAI
After becoming quite an avid golfer, the next couple of days will be spent at the Four Seasons on Lanai. Grab a flight from Kauai to Lanai, then transfer to your hotel. Chill out time awaits, with delicious local food, a round of golf and some sunbathing.
DAYS 10 – 13: THE BIG ISLAND
Now you're nicely relaxed, it's time to get back into adventure mode.
Hike Up An Active Volcano
The Big Island is home to Kilauea, the active volcano. Whilst the last major eruption was back in 1959, you'll still see lava bubbling away in the mile wide crater.
To view it, head to Volcanoes National Park for some of the best views, much like my friend and fellow travel blogger Chloe did!
Bear in mind the it is around a 10-mile hike round trip, and much of it is over boulder-sized lava rock, so go prepared!
Explore Rainbow Falls
There are waterfalls a plenty around the islands of Hawaii, so one or two must make it onto your dream holiday itinerary.
I've picked Rainbow Falls as it's a lovely waterfall that runs over a cliff side and crashes down into a large crater.
DAYS 14: HOME TIME
There are so many things to do in Hawaii, it is impossible to include them all. I would have loved to have included Maui on the list, but adventures on the other islands meant time was allocated to them instead.
THE DREAM TWO-WEEK ITINERARY TO HAWAII IS COMPLETE!
There you have it. Adventures, hiking, surfing, golf, tubing, climbing active volcanoes…this itinerary for 2 weeks in Hawaii has everything.
Is there anything I've missed off the itinerary that you would recommend based on your experience?
Let me know in the comments below 🙂
/////////////////////////////
This is a Sponsored Post, created in collaboration with travelplanners. All the thoughts within this blog post are my own. As a full disclosure, this post also contains some affiliate links. If any products or tours are purchased through them, I receive a little commission which goes back into my web hosting 🙂
https://adventurebagging.co.uk/wp-content/uploads/2020/01/na-pali-coast-kauai-hawaii.jpg
610
1000
Simon Heyes
https://adventurebagging.co.uk/wp-content/uploads/2018/10/Adventure-Bagging-Travel-Blog-WP.svg
Simon Heyes
2020-01-22 12:33:21
2021-01-11 14:09:14
My Two-Week Dream Itinerary To Hawaii