Poland has been on my to-do list for the last couple of years. It's cheap country to visit, a short flight from the UK, and has a rich, turbulent history that I was keen to learn more about.
At the beginning of each year, I keep an eye on the flight sales from each airline, and use Google Flights to track the prices of different destinations I want to visit during the year. It's a valuable way of saving many ££'s.
In this instance, Warsaw came up trumps. I grabbed two return flights for £29 each, including taxes.
As with most weekend trips, our accommodation was booked through Airbnb. I found a nice, simple 1 bedroom apartment next to Saxon Gardens, and a 10-minute walk to Castle Square. At £40 per night, it was the ideal base to explore the city.
FRIDAY EVENING
Our flight landed into Warsaw Modlin Airport around 3pm, and after a 45 minute taxi, we made it to our Airbnb apartment. A quick unpack and a change of clothes, and we headed out to explore.
Our apartment is 2 minutes from the tomb of the unnamed soldier. This is a monument that is dedicated to the unknown soldiers who have given their lives for Poland. Since 1925 the tomb houses the unidentified body of a young soldier who fell during a conflict in Poland. This is guarded round the clock, 24 hours a day by armed guards.
Under blue skies, we made our way across Pilsudski Square, and then back through Saxon Gardens to stretch our legs.
Never one to shy away from trying the local food, we found an amazingly chic restaurant around the corner from our apartment, called InFormal Kitchen. It's not the cheapest restaurant, by my word is the food excellent. I went for a bruschetta brioche to start, topped with chicken liver, mushrooms and cream. My main was braised beef cheek (a HUGE portion), thyme purée, kale, wine sauce. Delicious!
After that, I rolled myself home.
SATURDAY MORNING
With the morning sun piercing the blinds in our bedroom, we rose early and decided to head towards Warsaw's Old Town for a day of roaming around the cobbled streets.
Depending on where you stay in the city, I recommend a stroll along Przedmiescie-Krakowskie Street, which runs South East from the old town. It is filled with museums, bars, and restaurants.
On this street, you will pass the Presidential palace…
…and end up at the colourful Castle Square 🙂
To get an even better view of Castle Square and the old town, hike the stairs of the observation tower and people watch from the top floor terrace for a few minutes (and get a selfie or two as well, of course!).
With the Royal Castle on your right, you can then meander down some of the old town's quaint streets, and take in the sights of the grand architecture and old town history.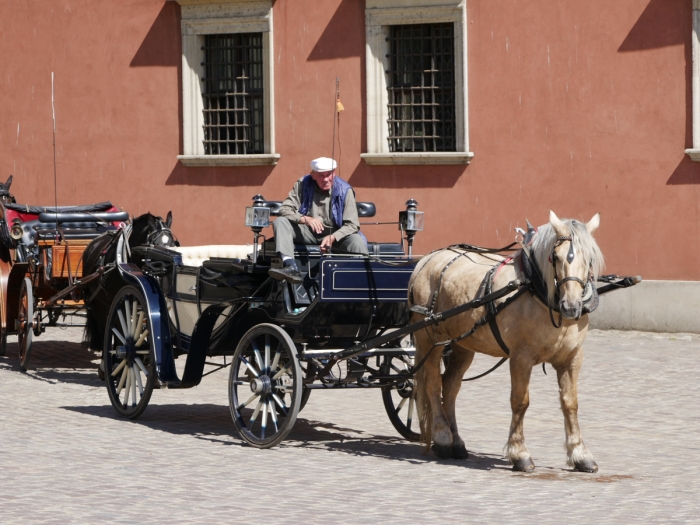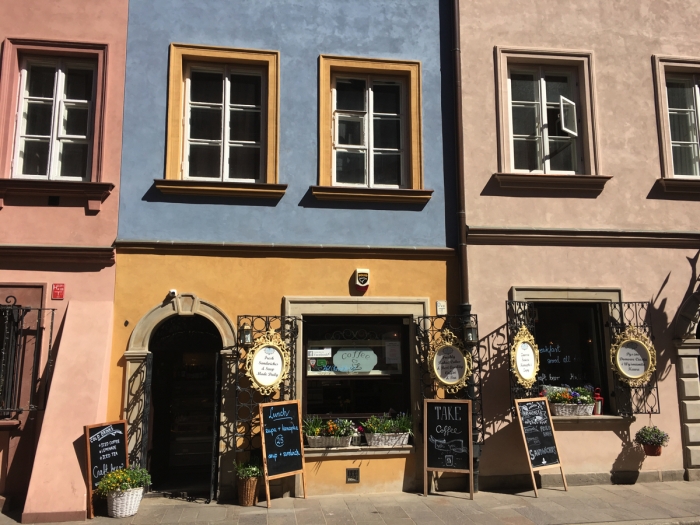 Eventually you'll end up at the main attraction – Warsaw's Old Town market square. Awash with colour, take a seat at one of the many restaurants and bars and soak up the atmosphere with a glass of wine or a beer.
You might even be hungry after your wander around, so grab lunch at one of the restaurants. We tried Bazyliszek Restaurant and Latem, and both were pretty good, if not a little high priced because of the location.
SATURDAY AFTERNOON
To walk off lunch, it's worth exploring the shops of the Old Town, and following the line of the old town wall to see what you can stumble across. It also gives you different views of the Old Town.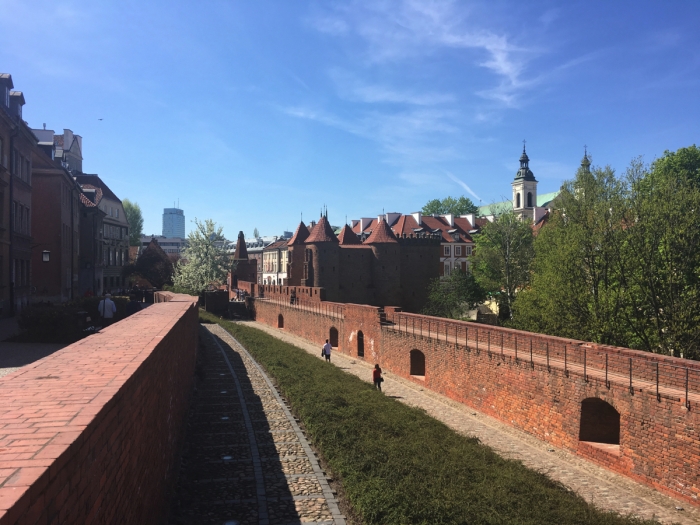 With the sun blaring down, we decided it was time for an ice cream, and it seems the local Warsaw ice cream shops don't do them by halves! Here we are picking up an ice cream each 🙂
After a few hours of wandering around, we started to lag, so began to head towards our apartment.
On the way, and close to the tomb of the unnamed soldier, is a nice little craft beer bar called The Alchemist.
Famed for its 'beer wall', thirsty punters can grab a card from a waiter, pre-pay the card for however many units they want to consume, then help themselves to beer from the taps in the wall.
After a quick nap, shower and change, we headed back out into the cool Warsaw night for dinner. We were tempted to try the popular Manekin restaurant, which was a short walk from our apartment, but the place had queues out of the door most evenings, so we decided against it. I would recommend booking well in advance if you want to go there!
Eventually we ended up back near the Old Town market square, and tried a traditional dish of beef stew and dumplings 🙂
SUNDAY MORNING
With our flight looming at 3pm, we decided to get up early and head to Warsaw's breakfast market, located North of the city.
The breakfast market is easy to reach, with a tram stop a 2 minute walk away. The tram stop is called Gen. Zajaczka (it was a 15 min ride for us from Krowleska 05 tram stop).
It's well worth the journey, as it gives you a glimpse into Warsaw suburb life, and some of the amazing food you can get outside the city.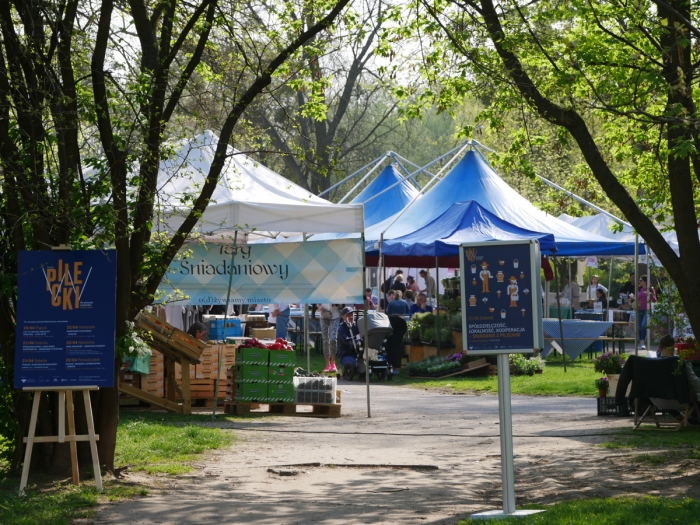 A word of warning though – whilst it's called the 'Warsaw breakfast market', there isn't a great amount of breakfast items to eat. I found one stall doing scrambled eggs and omelettes, and that was about it!
I'll be writing a separate post on the breakfast market, but in the meantime, you can check out the video below about it 🙂
And with the relaxing food market experience wrapped up, it was time to head back, pack our bags and head for the airport.
Modlin airport is around a 45-minute drive from the city centre, and whilst you can take a bus or train, we found it much easier to grab a taxi (especially with luggage…and Claire was pregnant at the time :). The taxi cost roughly £25.
So there we have it – a 48-hour itinerary weekend for Warsaw! I hope you enjoyed the post, and feel free to comment below if you have any questions about the city! 🙂
https://adventurebagging.co.uk/wp-content/uploads/2018/07/castle-square-warsaw.jpg
900
1200
Simon Heyes
https://adventurebagging.co.uk/wp-content/uploads/2018/10/Adventure-Bagging-Travel-Blog-WP.svg
Simon Heyes
2018-07-15 13:27:45
2018-09-12 16:54:10
A Weekend In Warsaw