Hiking the Inca Trail to Machu Picchu was something I'd wanted to do since I was a young boy. Now that I've actually hiked one of the best trails in the world, I can safely say it was one of my top five travel highlights ever.
Before I left the UK, I struggled to find a comprehensive Inca Trail packing list. There is so much information and so many lists out there, it was difficult to find out what items were necessary and which items I could behind.
I did the Inca Trail with G Adventures, who were excellent, and organise it so that your camping equipment, food and a portion of your personal belongings are carried by a group of porters who accompany you on the trail, ensuring you have as light a rucksack as possible throughout the hike.
THINGS TO CONSIDER
Altitude & Weather
I did the 4-day Inca Trail at the start of November. The temperatures don't vary too much throughout the year, but there is much more rainfall on the Peruvian trail between November and March.
Expect warm, balmy days, some sporadic heavy rainfall, and cool nights. Oh, and when it rains, it REALLY rains, so take a few spare dry sacs to keep the clothes inside your rucksack dry. Also don't forget the Inca Trail is at altitude. It is more than likely you will spend a couple of days acclimatising in Cuzco (3,400m) before the hike, to allow you to get used to the oxygen levels in the air.
The Inca Trail itself varies between 2,500m and 4,200m. Many people bring altitude sickness pills, or you can buy Sorotche pills locally, but you shouldn't need them if you acclimatise properly. The locals eat coca leaves and drink coca tea, which are offered to you throughout the trail. This, combined with plenty of water, seemed to keep the altitude sickness at bay for me.
Leaving & Storing Luggage
It is personal preference on how much equipment and clothes you carry on the trail. To help guide you, here are three tips that should help you choose how much to pack:
TIP 1 – Most trips start and end in Cusco, which means you will be able to store some of your belongings in a hotel or hostel whilst you do the Inca Trail. I left quite a lot of clothes behind such as jeans and other bulky items which weren't needed on the hike.
TIP 2 – The porters carry 6kg of your luggage. A sleeping bag, air mattress and a few other items should equal 6kg. You typically get your stuff back from the porters in the evening, so give them anything you need for the evening, such as toiletries and blow up pillows.
TIP 3 – Leave plenty of space for water. As you're hiking at altitude you need to drink about three times as much as you normally would. I would recommend investing in a lightweight water bladder device such as a Platypus or Camelbak. There are places to refill your water, and you can buy bottled water along the trail, which means you don't have to carry bulky plastic bottles around with you, saving valuable space.
YOUR INCA TRAIL PACKING LIST
Based on my tips above, here's my complete Inca Trail packing list. I've split the list into two parts – one packing list for the rucksack you carry, and a second for the items you pack, but give to the porters during the hike.
First up, you'll need a decent daypack to carry your stuff in. Ideally this will be between 20 – 30 litres, depending on how much you want to carry, and how much water you drink. I've always been a fan of Osprey rucksacks, so try going for the Espcapist or Tempest rucksacks.
Oh, and you'll also need some good footwear. I would recommend some good walking shoes, such as the Salomon Ultra II GTX – sturdy, comfortable, and weather proof. Make sure you wear them in before the hike to avoid blisters!
WHAT TO PACK IN YOUR RUCKSACK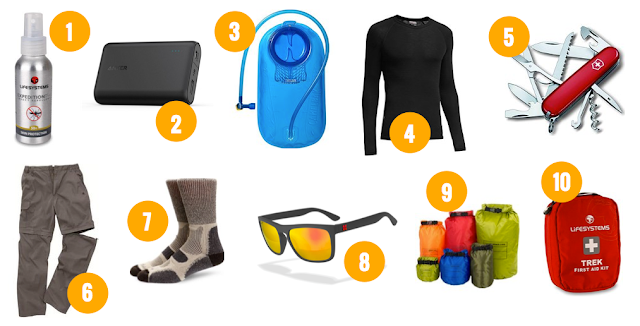 Insect repellent (1)
Altitude sickness pills
Portable Charger (2)
Passport (with photocopies – you need your passport to enter the Inca Trail…and besides, you get a stamp at Machu Picchu!)
Travel insurance (with photocopies)
Tip money for porters and guides
Money to buy extra snacks and water on the trail
Camera and spare battery
Camelback / Platypus / Water bottle (3)
Waterproof cover for your backpack
Duct tape (for many reasons)
Fleece top
Poncho (you can buy locally)
Waterproof jacket
2 merino tops (4) (merino is a great travel material – it keeps you warm in the cool, and cool in the warm)
2 t-shirts/shirts
Pocketknife (5)
2 pairs of zip off walking trousers (6) – can also be used as shorts – invaluable!
4 pairs underwear
Sports Bra (for women, obvs)
5 pairs of lightweight walking socks (7) (keeping your feet dry prevents blisters)
Sun cream (factor 50 or above to be safe – the sun is much stronger at altitude!)
Sunglasses – surely you're heard of SunGod sunglasses by now?! (8)
Sun hat
Waterproof dry bags (9)
Pocketsize First aid kit (10) – Compede (lifesavers if you get blisters), Ibuprofen, paracetamol, anti-histamine, plasters, Imodium, Dioralyte re-hydration sachets
Lightweight, windproof gloves
Baby wipes
Loo roll – bring PLENTY
Walking poles** – day two of the hike is quite a hike up to Dead Woman's Pass. You then have a 2 hour hike downhill. Poles will save your knees!
Playing cards
Anti-bacterial hand gel – you'll use a lot of this – keep it with you at all times!
Lastly, if you really want to raise a smile amongst your Inca Trail group, take a packet of wine gums and Haribo – cracking these out on day 2 will make you a hero!
PACKING LIST ITEMS TO GIVE TO THE PORTER
Head torch (11)
Sleeping bag**
Air mattress / roll mat**
Toiletries (12) – travel sized deodorant, shower gel, toothpaste, moisturiser, toothbrush
Travel towel (13)
Clothes to sleep in
Spare walking trousers
Flip flops (14) – air your feet each evening!
** You can hire these from your group or locally in Cusco for a small fee
There you have it – your complete Inca Trail packing list! Enjoy the hike to the 'Lost City Of the Incas' and let me know how you get on!
https://adventurebagging.co.uk/wp-content/uploads/2016/08/inca-trail-jump-adventure-bagging-blog.jpg
1200
1600
Simon Heyes
https://adventurebagging.co.uk/wp-content/uploads/2018/10/Adventure-Bagging-Travel-Blog-WP.svg
Simon Heyes
2016-08-07 11:42:00
2018-05-18 17:10:48
The Complete Inca Trail Packing List