The other night I found myself in a conversation in a vibrant bar in central London talking about blue cheese. This wasn't the first time I'd had a deep conversation about cheese.
Usually I would put something like this down to age. But the fact is I've loved blue cheese my whole life. My dad introduced me to it when I was young, and I've never looked back.
Blue cheese for many, is a bit like Marmite. You either love it, or you hate it. Folk in the latter camp usually pull a face that looks like a bulldog chewing a wasp when they even think about blue cheese.
But for those in the LOVE BLUE CHEESE camp, read on.
When Christmas comes around, there are important decisions to make. Important decisions such as which cheeses to include on your cheese board on Christmas Day. The majority of you – yes YOU – will generally go with the regular Blue Stilton from your nearest supermarket. You might even splash out at Christmas and go for the Finest selection edition.
No more.
This post is a slap on the wrist for conforming to the Blue Stilton brigade.
This post is designed to awaken your blue cheese senses and open your eyes to the other awesome, tongue-tickling blue cheeses out there around Christmas time.
Here goes nothing. Should you end up buying and trying one of these, and then loving it, my job here is done. Travel inspiration is one thing. Cheese inspiration is another.
1. ROGUE RIVER BLUE
I was introduced to this cheese back in 2013. It is only available for around 3 months of the year, usually around Thanksgiving through to late January. When I first found it that same year, I didn't want to talk about it. It was my secret it was that good. Ladies and gents, this – by far – is my favourite blue cheese.
Rogue River Blue is produced by the Rogue Creamery in Oregan, USA. It has won World Cheese Awards on more than one occasion, and for good reason. This blue cheese is nutty, fruity, creamy and will make your knees buckle. Each wheel is covered by grape leaves that are macerated in pear brandy. They are then left to age for several months. It's making my tongue tingle just thinking about it.
The other reason this is my favourite blue cheese is because there are very few places in the UK that sell it. In fact there's only one that I know of.
WHERE TO GET IT? – Neal's Yard Dairy, Covent Garden, London (www.nealsyarddairy.co.uk). Also available online.
PRICE? – It's not cheap. At all. But well worth it for a once a year treat. £76 per kg.
2. CASHEL BLUE
My second favourite blue cheese. Get it out of the fridge and let it ripen. The rest is inexplicable because it's just so damn tasty. When I was in Ireland a few years ago, I made it my mission to try and find the place where it is made. It wasn't as easy as I thought. Which is also another reason I like it so much. Moist and silky, this is a brilliant blue cheese to add to your Christmas cheese board.
WHERE TO GET IT? – Neal's Yard Dairy, London, Waitrose, Booths (for you fellow Northerners), some farm shops and all good cheese shops.
PRICE? – £18 – £23 per kg.
3. STICHELTON
Introduced to the British blue cheese scene in 2006, Stichelton has taken the cheese sector by storm and has seriously dented sales of Blue Stilton. The creators – from Nottinghamshire – set out to create a new and better Stilton, and seem to have nailed it.
If you can't do without Blue Stilton on your cheeseboard, but want to go slightly off piste, go for this blue.
WHERE TO GET IT? – Neal's Yard Dairy, Whole Foods, Selfridges (all online) and all good cheese shops.
PRICE? – £25 – £29 per kg.
4. URDINA
I discovered this blue cheese on my final night in the Basque Country. This is the only cheese on the list that is made from sheeps milk, but it's Stilton strength flavour got my cheese gland going, so I've added it to the list.
I've got no idea is you can get Urdiña in the UK, but if and when I find out, I'll add it here.
WHERE TO GET IT? – Not sure.
PRICE? – Don't know, sorry.
Is there a blue cheese you love? One that beats any of the blue cheeses above? Let me know in the comments below!
5. GARSTANG / NICKY NOOK BLUE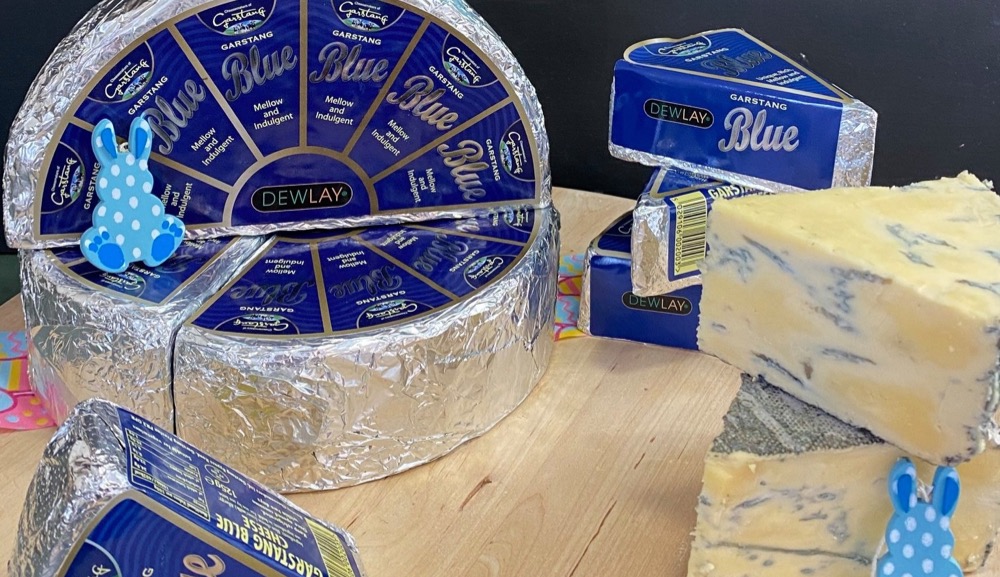 I couldn't complete this list without adding one from my native Lancashire. Garstang Blue (also called Nicky Nook Blue) is the best blue cheese in the North West and is slowly but surely making itself known around the UK. Garstang Blue is a smooth, creamy blue cheese made from pasteurised cows milk. It's matured over 5 weeks and cultured to allow those all important blue streaks to develop within the cheese.
WHERE TO GET IT? – Booths, My Deli Fresh, Birkdale Cheese and all good cheese shops.
PRICE? – £4.90 per 200g (£24.50 per kg)
Is there a blue cheese you love? One that beats any of the blue cheeses above? Let me know in the comments below!
https://adventurebagging.co.uk/wp-content/uploads/2015/12/christmas-blue-cheeses-blog.png
1200
1600
Simon Heyes
https://adventurebagging.co.uk/wp-content/uploads/2018/10/Adventure-Bagging-Travel-Blog-WP.svg
Simon Heyes
2015-12-10 18:04:00
2020-11-26 12:25:39
Best Blue Cheeses For Christmas? Try These 5 Stilton Alternatives