Just when I thought Papua New Guinea was completely cut off from civilisation, I decided to travel even further away from the road less travelled, and learn more about local village life in Tufi.
One of the most anticipated parts of my trip was staying away from the comfort of an air conditioned hotel, and sleeping under a thatch roof in a local village, with nothing but the sound of nature sending me to sleep.
As soon as Lonely Planet announced in January that staying with a local Papua New Guinea tribe in Tufi was on their new travel experiences for 2015, it was something I had to do during my time in PNG.
This was a chance to get under the cultural skin, and really learn about local village life.
A post sing-sing picture with my dad
Check out my video about Papua New Guinea life, and see the sing-sing in all it's glory over on my YouTube channel.
I had a choice of villages to choose from, and eventually decided upon Kofure, a small village of around 80 people, and only accessible by boat or outrigger from the centre of Tufi, in Northern Oro province.
After jumping out of our boat into the shallows of the shore, my dad and I slung our packs over our shoulders and headed for the village centre. Small rocks and shells lined the path to the entrance, and we were greeted by our host William, wearing a dark t-shirt, shorts and a broad smile.
We said hello to a few local children, and William showed us to our room. Built on stilts, our room was housed under a thatch roof, and the entire structure was made from the local trees in the village. It was basic, but we didn't expect anything else.
We dropped our bags onto the bed, and made our way back outside to chat to William and some of the village children.
We sat at a table drinking tea made with powdered milk, and it suddenly dawned on me how far away from Westernised civilisation we really were. This is a sustainable village. There are no shops, no supermarkets, no local amenities. Even when supplies are needed, villagers need to take an outrigger and paddle the 3-hour round trip to the airfield to collect whatever they need.
An outrigger heads around the coast
Given the size and width of the outriggers, even then they are limited by the amount of stuff they can bring back. The last thing anyone wants is a sunken outrigger!
William told us a bit of the history of the village, and how they live day-to-day. They have basic pots and pans to cook, which means they can fry or boil whatever they catch and grow. Our meal for the evening was a mixture of sweet potato, rice and a non-descript meat. Salt and pepper is a luxury in the village, so whilst the meal was fairly bland, it was nice to experience what the local villagers would eat.
With the sun rapidly descending over the pristine ocean, we headed to what would be our cosy room for the night.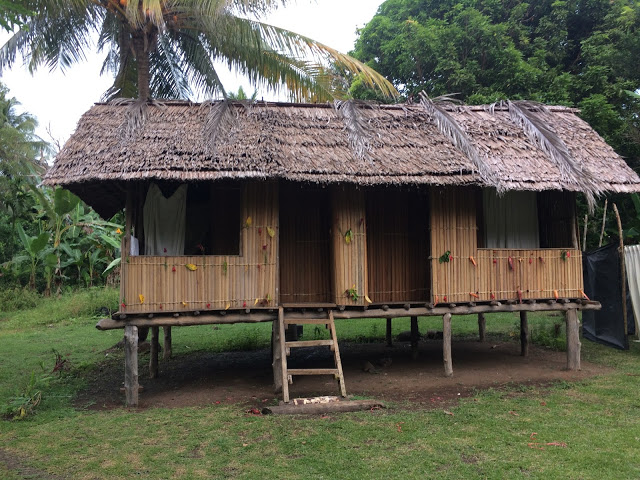 Our accommodation for the evening
The outhouse 🙂
Sunset from the village beach
We shared a room, and given my dad can snore for Britain, I put my earplugs in, hit the pillow and hoped for the best.
Aside from incredibly noisy frogs and a cockerel that was crowing for PNG, I slept really well. During the quiet times in between the snoring, all you could hear was the sounds of nature and the waves lapping against the shore. No other people, no cars, planes or boats. Just the odd heavy breath from my dad 🙂
We were greeted with tea, coffee and dried sweet potato for breakfast, before I headed out to the beach to walk off breakfast.
I noticed some local children seemed to be snorkelling around the shore, collecting shells. I asked William why, and he said the children make necklaces and other crafts to sell near the airstrip, and to any potential tourists that come into the village. Of which there weren't many.
Before we headed out on our outriggers, the children showed us some of the jewellery they had created. Small shells, big shells, and all the colours of the rainbow. One older boy had even carved a small outrigger out of local wood. When I said the village was sustainable, I really meant it!
We were taken out on some outriggers, through some thick mangroves to learn more about village life.
Look how thin the kayaks are!
We arrived onto shore, walked 100 yards or so, and were then greeted by a man sprinting towards us with a spear, shouting in a language I didn't understand.
"He wants to learn if you are friend or foe", said our guide, so we quickly and loudly announced that we were most definitely friendly.
This is a typical greeting in most villages and clans around Papua New Guinea.
We continued walking and stopped near a tree, where we learned the locals take fibres from the tree, and weave them together to make string for washing lines and bows.
Next we taught about village tattoos. Whilst tattoos have become vogue in Western society over the last 15 years, tattoos have been a staple part of Tufi culture for many years. Most of the women over 30 years of age will have a tattoo etched all over their face, making them some of the most striking females in all of Papua New Guinea.
The tattoos are created when a girl reaches full maturity at around 18 years of age. The tattoo shows she is now ready for marriage. The process of applying the tattoo is a long and painful one, involving a technique that is only practiced by certain women in the village who have the skills passed down to them by their mothers and grandmothers. The completed facial tattoo could take up to 2 months to complete, because it would be applied in sections on a daily basis, allowing previously completed areas time to heal.
In this village, the permanent tattoos are no longer given to women, although the tradition continues in many other local tribes around Oro Province.
I mentioned earlier in this post that most of the villages are sustainable. They do their upmost to live off the land, grow what they can, and repurpose items from the trees and plants around them. No more so is this obvious, than the uses of the sago palm tree.
Once the outer layers of the tree are taken away, local villagers extract the starch from spongy centre. This starch is known as sago.
A man extracts the spongy centre from the palm tree
Starch is then extracted from the spongy centre
It is a very specific process, but once the local villagers have the sago starch, they – incredibly – use it as the backbone ingredient for a lot of their cooking.
Sago starch is used to make sago flour, which in turn is then used to make dough balls, pancakes and even a sweet sago pudding.
To end the amazing tour of this clan, we were then treated to a traditional tribal sing-sing, where local villagers dress up and sing in a form of celebration.
Bright colours, vibrant dresses and the banging of drums signified the end of our time in Papua New Guinea. It has been a once in a lifetime journey, and one that will live with my dad for the rest of our lives.
If you want to get well off the beaten track, experience nature as nature intended and learn some of the oldest traditions in the world, you need to head to Papua New Guinea.
Many thanks to PNG Tourism UK for the chance to explore Papua New Guinea! You can fly to PNG with Singapore Airlines via. Singapore, Hong Kong or Brisbane, and connect to Tufi with Airlines PNG. 
You can also have your own Papua New Guinea village stay experience, as another village in Tufi is now listed on Airbnb! Just don't expect a quick response. Wifi is only available at Tufi Dive Resort.
Intrepid Travel also provide the chance for you to hike the Kokoda Trail.
https://adventurebagging.co.uk/wp-content/uploads/2015/10/simon-heyes-tribe-papua-new-guinea.jpg
1200
1600
Simon Heyes
https://adventurebagging.co.uk/wp-content/uploads/2018/10/Adventure-Bagging-Travel-Blog-WP.svg
Simon Heyes
2015-10-11 12:55:00
2018-06-08 10:16:25
Tufi Village Stay – Insights From Village Life In Papua New Guinea