The food in Budapest is quite heavy and a little bit spicy", said our taxi driver as he drove us from the airport into the city centre.
"That's fine with me", I replied, and looked forward to trying some of the foodie delights the cafes and restaurants of Budapest had to offer.
All the talk before we arrived in Budapest was about the incredible ruin pubs in the city. In fact Lonely Planet voted Szimpla Kert the third best bar in the world in 2012. But from my experience a few weeks ago, Budapest has plenty of brilliant restaurants and cafes to write home about.
At the time of posting, there are approximately 400 Hungarian Forint to £1. Most of the restaurants we visited worked out at around 16,000 HUF, which included a glass of wine each, a shared starter, two mains and a shared desert. Not bad for £38.
So, if Budapest is on your list of European cities to visit, here are some of the best restaurants, cafes and ruin bars to try in the city.
BUDAPEST'S BEST RESTAURANTS
Kőleves – Kazinczy utca 37, Budapest (Google Maps link)

Kőleves was one of my favourite restaurants in Budapest. Nestled away down a side road only a stones throw from Szimpla Kert, this is a laid back restaurant with a lovely ambiance and menu.
Old instruments, chalkboards and hearty food are the key ingredients for this restaurant. Goulash soup as a starter and roast leg of goose with mashed potatoes and red cabbage are a must have, washed down by a couple of glasses of Hungarian wine.
The inside of Koleves, Budapest
Delicious loin of venison, polenta and gravy
Roast goose at Koleves
Spinoza – Dob utca 15, Budapest (Google Maps link)
Spinoza – located round the corner from Koleves – is a gem of a restaurant. Head here if you want to sample some local goulash and potato dumplings, as well as a host of other hearty, simple Hungarian dishes.
We went around 7pm on a Saturday night, and only had to wait about 10 minutes for a table. It's a cosy restaurant with cosy prices to match. A pre-meal glass of local fizz (Törley champagne) cost 550 HUF (£1.20), a beer is around the same, and the three course set menu of goulash soup/goose soup, goose leg or goulash and apple strudel costs £12.
Simple but tasty – goulash at Spinoza
Misto Bistro – Sas utca 9, Budapest (Google Maps link)
Initially I was heading to Aszú étterem, as recommended by Katherine at Lux Life blog, but it was fairly pricy, and looked like more of a dinner time restaurant. We were after a quick bite of local lunchtime food, so stumbled across Misto Bistro, which is a few doors further down, and round the corner from St. Stephen's Basilica.
Misto Bistro is smack bang in the middle of tourist town, so it came as no surprise there was a 'tourist menu'. It consisted of goulash soup followed by paprika chicken with noodles, and a small pancake filled with chocolate to finish. All for under £15.
My partner in crime also took a particular liking to Misto Bistro's extensive Bailey's menu 🙂
Fishermans Bastion (Halászbástya) – Szentháromság tér 5, Budapest (Google Maps link)
If you want lunch or dinner with one of the best views in the city, head to Fisherman's Bastion. Located right next to Matthias Church on Castle Hill, Fisherman's Bastion has been built into the surrounding castle wall, and gives you impressive views of Pest and the Houses Of Parliament.


Zeller Bistro – Izabella utca, 38, Budapest (Google Maps link)
I've saved the best until last. Zeller Bistro was brilliant. From the point I booked by email, the Zeller team were nothing but friendly. This restaurant is a little out of the way, and requires a cheap taxi ride, but is worth every penny.
I found Zeller Bistro through Tripadvisor, and the restaurants ratings speak for themselves.
We arrived, headed down the stairs and were greeted with warm smiles by the family team that runs Zeller Bistro. We were shown to our table, quickly given a run through of the menu and specials, and because we couldn't choose a wine, they brought all the whites out for us to try. That wouldn't happen in many restaurants!
Before we ordered, the lights went out, leaving everyone in the dark. A power cut? Nope, it was someone's birthday, and turning out the lights for two minutes means everyone has to join in. It's only a small place, so that created a brilliant, friendly atmosphere.
'What about the food?' I hear you cry. It was all superb. The starters were excellent, the mains were superb, and the desserts were the perfect sign off. I even gave Unicum a try (I had to, but never again), and as we waited for the taxi, we were given a local spirit, made by the teams father. It tasted like a whisky, but was clear in colour. Ask for it if you visit 😉
My delicious roast duck at Zeller Bistro
The main, cosy dining area – Zeller Bistro
Melt in the mouth lamb – Zeller Bistro
It really did taste as good as it looks!
If that wasn't enough, a really nice touch I liked was the addition of pencil crayons on the table. Designed for kids and used by everyone, Zeller Bistro pin the best drawings up on the wall, as a showcase of the best artistic talent to grace the restaurant.
There you have it – the best restaurants in Budapest 🙂
STREET FOOD IN BUDAPEST
Karavan – Kazinczy utca 18, Budapest (Google Maps link)
This is a random, but worthy addition to the food list in Budapest. As we were walking towards Szimpla Kert, we came across Karavan. This was, in effect, a long roofed greenhouse filled with street food vendors from Budapest. From langos and pizzas through to craft beer, crepes and beer cheese (no, really), you can pick up some great food at bargain prices.
Giving the local Hungarian craft beer a try!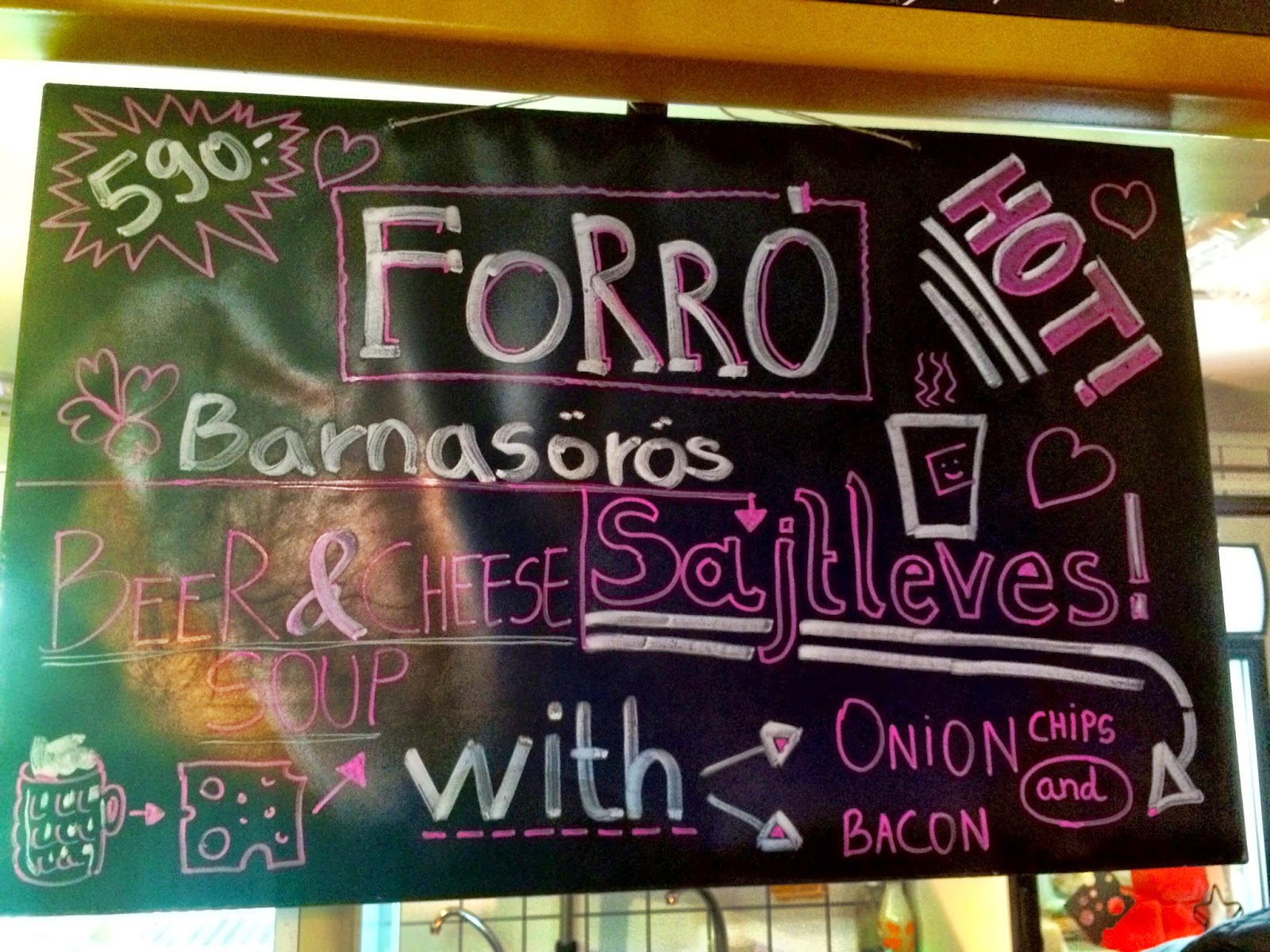 Beer and cheese soup?!
BUDAPEST CAFES
I'm not really a cafe sort of person, so we only visited one. But if there is one cafe you must visit in Budapest, it's this one.
Cafe Gerbeaud is at the Northern end of the main pedestrianised street, in the Pest side of the city. It is a must visit if you go to Budapest. It is slightly overpriced for a cafe, but you must try one of the cakes, and most certainly Gerbeaud Kave, the Gerbeaud signature coffee. Deliciously rich, alcoholic and tasty.
RUIN BARS & PUBS, BUDAPEST
The main ruin pub that you'll hear and read about is Szimpla Kert. And it is awesome.
Szimpla Kert – Kazinczy utca 18, Budapest (Google Maps link)

Szimpla Kert is a derelict building, filled with character. Split on two floors, Budapest's main ruin pub is a maze of rooms and space, filled with locals and tourists as well as retro furniture.
Whilst bars like this simply wouldn't exist in Britain due to health and safety laws, Szimpla Kert symbolises Budapest – cool, full of character and has a great vibe.
Every wall has some sort of inscription, either in pen, pencil or marker. The tunes are belted out by a DJ above the main entrance, and there are plenty of bars inside to ensure you're never far from a fill. Grab a drink, wander around, and enjoy this awesome pub.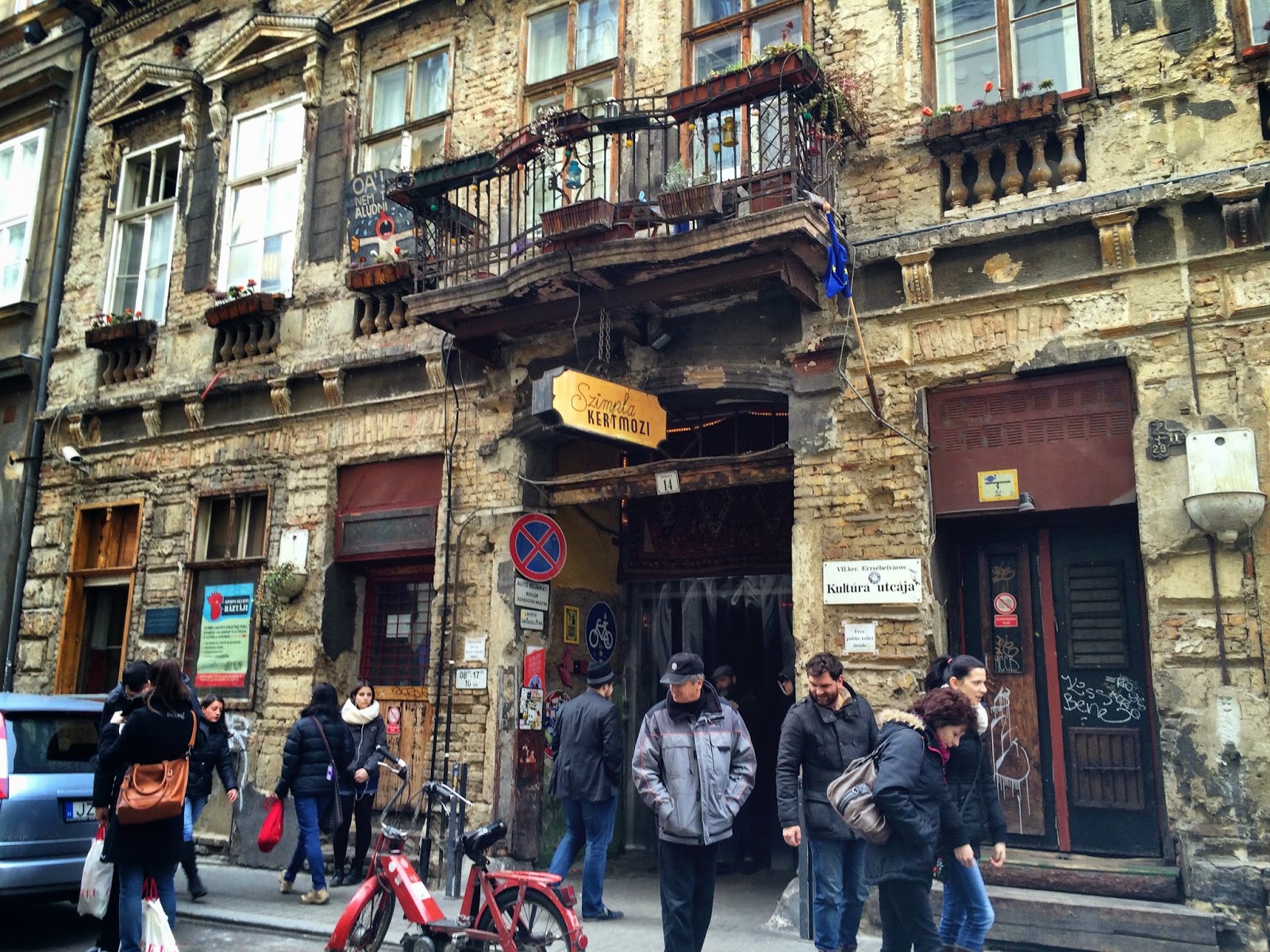 One of the main rooms at Szimpla Kert
If that wasn't enough, Szimpla Kert transforms itself from a hip bar in the evening, to a Sunday food market the next morning. The Szimpla Kert Farmers Market is one of the few Budapest markets open every Sunday, so head back here before lunch and grab some tasty food.
Corvintető – Blaha Lujza ter 1-2, Budapest (Google Maps link)

Corvinteto is also worth checking out, and is around the corner from Szimpla Kert. This place has more of a dance / nightclub vibe, but could be worth a last drink on your way home.
Anker't – Paulay Ede utca 33, Budapest (Google Maps link)

We didn't actually visit Anker't as it is more of a summer ruin pub, but from all the articles and blog posts I've read, this place should be on your list of ruin pubs to visit.
Want a list of even more ruin pubs? Check out this list from WeloveBudapest.com.
ONE GIANT BUDAPEST MAP
Me being me, I love locating all the places I'm going to visit on a map. Before we headed to Budapest, I created a Google Map with all the restaurants, cafes and ruin pubs on it. If Budapest is on your list of places to visit, then feel free to use it –
Simon's Awesome Google Map Of Budapest
.
I hope you enjoy the Budapest restaurants and bars as much as me! 🙂
Looking for the best deals on trips to Budapest? Check out some of the great deals Travelzoo have to offer 🙂
https://adventurebagging.co.uk/wp-content/uploads/2015/02/cafe-gerbeaud-budapest.jpg
1200
1600
Simon Heyes
https://adventurebagging.co.uk/wp-content/uploads/2018/10/Adventure-Bagging-Travel-Blog-WP.svg
Simon Heyes
2015-02-01 20:49:00
2018-05-21 20:49:31
10 Of The Best Restaurants, Cafes & Ruin Bars In Budapest